Aloha Newsletter
January 2013
Aloha Everyone! We hope you enjoy our newsletter, but if you wish to be removed from our list, please reply to this email with"Remove" in the subject line and we will delete your name from our mailing list.
Click here to view this email in your browser
---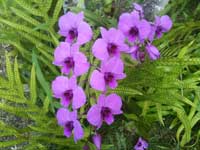 Excerpt from "The Huna of String Figures" by Lois Stokes: "If there are no limits and if thought is energy, then our prayers, our conscious or imagined thoughts directed to spirit, to our higher self, are also connected to our subconscious mind. As we strengthen the connections or kaula o - the spirit line - our prayers are answered through this flow of energy. What makes some prayers answered and others not may be the blockages in our memories that reduce the energy through our aka body and our connection to the flow. "
---
Making The World A Better Place
("To bless" in Hawaiian is "ho'omaika'i" and it means to increase the goodness of someone or something. We can bless with words, with visions, and with actions)
Globally: Bless the recovery efforts for those who have experienced severe storms around the world.
Locally: Did you put too much salt in the casserole? Don't throw it out. Just add thin strips of apple to the dish for a while. When you take out the apple the extra salt goes with it. If soup is the problem, add a peeled potato and throw it out when the soup is done.
Online:
Send your healing requests to huna@huna.org;
Join Serge Kahili King on Facebook (add a message) and connect with a lively group of sharing, helpful people;
Participate in our Online Healing Circle at http://www.huna.org/html/hcircle.html.
Participate in our global healing work and classes at Huna Village in Second Life.
---
---
---