Aloha Newsletter
February 2012
Aloha Everyone! We hope you enjoy our newsletter, but if you wish to be removed from our list, please reply to this email with"Remove" in the subject line and we will delete your name from our mailing list.
Click here to view this email in your browser
---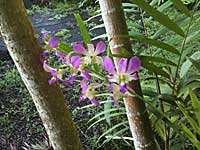 Excerpt from "Harmony" by Jim Brinkley: "In Hawaiian, reduplication is often used for emphasis. Thus ponopono means "in order, arranged, cared for" and ho'oponopono, the powerful system of Hawaiian spiritual counseling, literally means "to put to rights." It seems to me that when we each recognize our rightful place as a "child of God" or as an integral part of the whole, and when we recognize the same for every other, we have started on the path to spiritual awareness: the path to harmony."
---
Making The World A Better Place
("To bless" in Hawaiian is "ho'omaika'i" and it means to increase the goodness of someone or something. We can bless with words, with visions, and with actions)
Globally: Bless those who are helping to clean up the oil from the wrecked Italian cruise ship, those who are digging themselves out of heavy snowfalls, and those who are working to harmonize the ecology in the Florida Everglades.
Locally: Consider replacing at least some of the paper magazines and newspapers you read with digital versions, either online or downloaded to mobile devices.
Online:
Send your healing requests to huna@huna.org;
Join Serge Kahili King on Facebook (add a message) and connect with a lively group of sharing, helpful people;
Participate in our Online Healing Circle at http://www.huna.org/html/hcircle.html.
Participate in our global healing work at Huna Village in Second Life.
---
Current Articles on the Web at Huna.org:
"Making Sense of Meditation," by Serge Kahili King
"The Soft Underbelly of Disappointment," by Stewart Blackburn
"Learning From The Nature Of Waves," by by Pete 'Ike Dalton
"Vibratory Healing," by Jim Fallon
---
Upcoming Events
Check the Huna Calendar for:
February 13-17, Hula Intensive by Kawaikapu Hewett on Kauai
February 18, Hula Presentation by Aloha International's own Hula Halau on Kauai
February 22-May 16, Online Huna Course by Katherine Veilleux
and much more...
---
At The Huna Store:
February Special - Discount on Bico Hawaiian-style pendants
New products: Two novels by Serge Kahili King in the Books section