Aloha Newsletter
February 2013
Aloha Everyone! We hope you enjoy our newsletter, but if you wish to be removed from our list, please reply to this email with"Remove" in the subject line and we will delete your name from our mailing list.
Click here to view this email in your browser
---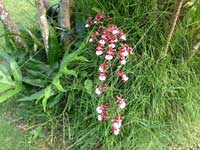 Excerpt from "A Place For Love To Dwell" by Kapua Gregory: "It is time to bring the vision of Paradise into here and now. It is time to recognize that Paradise is something we can choose to create. And the more of us that make that choice, the sooner it will come about. To create Paradise we need to recognize its essence, which is Love. If it is our desire to live in Paradise, we must create a place for Love to Dwell."
---
Making The World A Better Place
("To bless" in Hawaiian is "ho'omaika'i" and it means to increase the goodness of someone or something. We can bless with words, with visions, and with actions)
Globally: Bless those who are helping to deal with the fires and floods in Australia.
Locally: You can actually recover clumpy salt and stuff that goes limp by spreading it on a dish and zapping it in the microwave for 30 seconds.
Online:
Send your healing requests to huna@huna.org;
Join Serge Kahili King on Facebook (add a message) and connect with a lively group of sharing, helpful people;
Participate in our Online Healing Circle at http://www.huna.org/html/hcircle.html.
Participate in our global healing work and classes at Huna Village in Second Life.
---
---
---