Aloha Newsletter
January 2014
Aloha Everyone! We hope you enjoy our newsletter, but if you wish to be removed from our list, please reply to this email with"Remove" in the subject line and we will delete your name from our mailing list.
Click here to view this email in your browser
---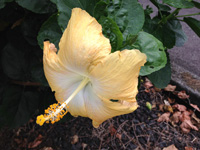 "What Have You Always Wanted to Do?" by Pamela Brennan Fay: "Ask yourself this question, "What have I always wanted to do, but haven't done yet?" And do it! The answer to that question is your High Self whispering to you, urging you on to the magic that you so rightfully deserve. You'll be pleasantly surprised at the outcome, no matter what it is. And, of course, when you continue to study Huna and use the 7 principles in your every single experience, this will always bring you more and more self-love - the beautiful magic of the Aloha Spirit!" (read the whole article at www.huna.org/html/whatwant.html)
---
Inspirations
"Everyone has a talent. What is rare is the courage to nurture it in solitude and to follow it to the dark places where it leads" - Erica Jong
Online:
Send your healing requests to huna@huna.org;
Join Serge Kahili King on Facebook and connect with a lively group of sharing, helpful people;
Participate in our Online Healing Circle at http://www.huna.org/html/hcircle.html.
Participate in our Huna Discussion Group every Wednesday in Second Life Wednesdays at 8am Hawaii time (http://maps.secondlife.com/secondlife/Ruby%20Caye/84/44/23).
---
Current Articles on the Web at Huna.org:
"The Benefits of Being Present," by Serge Kahili King
"In-Depth Lomilomi," by Christine Spycher-Mandel
Other Updates at Huna.org:
Hunamail
Huna Happenings
---
Upcoming Events
Check the Huna Calendar for:

February 15-22, Hanalei Bay, Kauai, Shamanic Bodywork' & Traditional Lomilomi by Wayne Powell
March 2, Volcano, Big Island, HunaTalk by Serge Kahili King
March 24-28, Big Island, "Hawaiian Shaman Healer" Course with German translation, by Serge Kahili King
and much more...

---

At The Huna Store:
Book Deal: Order the PDF version of any novel and get a second novel of your choice added for free.
New Product: Video downloads added.