Aloha Newsletter
February 2012
Aloha Everyone! We hope you enjoy our newsletter, but if you wish to be removed from our list, please reply to this email with"Remove" in the subject line and we will delete your name from our mailing list.
Click here to view this email in your browser
---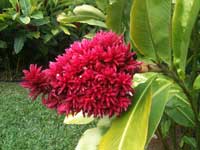 Excerpt from "Huna For The Earth" by Kapua Gregory: "Visit Nature, be with Gaea, touch the earth, tell her you love her, listen to her, open your heart to her, share your energy with her, let her know you will help, and see whether she suggests anything to you. She will renew you, and encourage you, and give you inspiration. For the earth's sake, and for our own, those times spent with nature are precious, valuable and necessary."
---
Making The World A Better Place
("To bless" in Hawaiian is "ho'omaika'i" and it means to increase the goodness of someone or something. We can bless with words, with visions, and with actions)
Globally: Bless the peacemakers in Syria, those who are protecting elephants in Cameroon, and those who are working to have Antarctica's Ross Sea declared a marine reserve.
Locally: After the 1992 hurricane on Kauai we used a small, conical grill for cooking. Ten crumpled newspaper pages would cook two nice steaks or four hamburgers in minutes with no aftertaste. The one we used is no longer available, but you can do a web search for "newspaper grill" to find various offerings.
Online:
Send your healing requests to huna@huna.org;
Join Serge Kahili King on Facebook (add a message) and connect with a lively group of sharing, helpful people;
Participate in our Online Healing Circle at http://www.huna.org/html/hcircle.html.
Participate in our global healing work at Huna Village in Second Life.
---
Current Articles on the Web at Huna.org:
"How To Mend A Broken Heart," by Serge Kahili King
"Thoughts About Hina," by Susan Pa'iniu Floyd
"Love Heals From Within," by Stewart Blackburn
"Huna In Mundane Places," by by Pete 'Ike Dalton
"Vibratory Situation Healing," by Jim Fallon
---
Upcoming Events
Check the Huna Calendar for:
March 28-29, Hula Workshop by Kawaikapu Hewett in Vienna, Austria
March 31-April 1, Hula Workshop by Kawaikapu Hewett in Munich, Germany
April 1, Huna Talk by Serge Kahili King in Volcano, Big Island
and much more...
---
At The Huna Store:
On vacation for the month of March
No products shipped until April