Aloha Newsletter
April 2012
Aloha Everyone! We hope you enjoy our newsletter, but if you wish to be removed from our list, please reply to this email with"Remove" in the subject line and we will delete your name from our mailing list.
Click here to view this email in your browser
---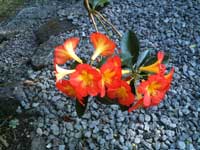 Excerpt from "Motivation Is The Moving Force" by Kala Kos: "Motivation is the moving force; it moves you to act. Your motivation is based upon the strength of your desire, which is based upon the importance of what you want. The more important you make your goal, the more you'll be motivated to move toward it. Increasing your motivation will also help you increase your concentration."
---
Making The World A Better Place
("To bless" in Hawaiian is "ho'omaika'i" and it means to increase the goodness of someone or something. We can bless with words, with visions, and with actions)
Globally: Bless the firefighters in Colorado, those who are protecting orangutangs in Indonesia, and the peacemakers in Sudan.
Locally: "Baby Wipes" are not just for babies. They are great for degreasing cars, bikes, boats, and trailers without damaging the paint.
Online:
Send your healing requests to huna@huna.org;
Join Serge Kahili King on Facebook (add a message) and connect with a lively group of sharing, helpful people;
Participate in our Online Healing Circle at http://www.huna.org/html/hcircle.html.
Participate in our global healing work at Huna Village in Second Life.
---
Current Articles on the Web at Huna.org:
"How To Mend A Broken Heart," by Serge Kahili King
"Thoughts About Hina," by Susan Pa'iniu Floyd
"Love Heals From Within," by Stewart Blackburn
"Huna In Mundane Places," by by Pete 'Ike Dalton
"Vibratory Situation Healing," by Jim Fallon
---
Upcoming Events
Check the Huna Calendar for:
April 7-8, Hula Workshop by Kawaikapu Hewett in Lucerne, Switzerland
April 14-15, Hula Workshop by Kawaikapu Hewett in Warsaw, Poland
May 5-11, Lomi Workshop by Wayne Powell on Kauai
and much more...
---
At The Huna Store:
Rainbow Energy Pad on sale for $15.00
Serge Kahili King's first novel, "The Okora Mask" now available