Aloha Newsletter
April 2014
Aloha Everyone! We hope you enjoy our newsletter, but if you wish to be removed from our list, please reply to this email with"Remove" in the subject line and we will delete your name from our mailing list.
Click here to view this email in your browser
---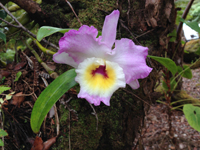 "Hula: The Soul of Hawaii" by Tracey Lakainapali: "The most famous site associated with ancient hula training is at Ke'e, Kaua'i. It has the most extensive recorded history and legends associated with it. A visit to this site is an experience not quickly forgotten by any modern student of hula. The energy of this sacred place is something I could not even attempt to put in to words, so profound and tangible is the energy there. Suffice to say on each of my sojourns there, I have been left in tears, unable to speak, and barely able to breathe." (read the whole article at http://www.huna.org/html/hula_th.html)
---
Inspirations
"You may not be responsible for being down, but you are responsible for getting up." - Jesse Jackson
Online:
Send your healing requests to huna@huna.org;
Join Serge Kahili King on Facebook and connect with a lively group of sharing, helpful people;
Participate in our Online Healing Circle at http://www.huna.org/html/hcircle.html.
Participate in our Huna Discussion Group every Wednesday in Second Life Wednesdays at 8am Hawaii time (Ruby Caye11 (84/44/23).
---
Current Articles on the Web at Huna.org:
""How To Expect The Best - And Get It!" by Serge Kahili King
"Transformation At Dinner," by Stewart Blackburn
Other Updates at Huna.org:
Hunamail
Huna Happenings
---
Upcoming Events
Check the Huna Calendar for:
April 16-20, Vienna, Austria, Ewe O Ka Hula 2014 by Kawaikapuokalani Hewett.
April 21-25, Big Island, Advanced Huna Healing course by Serge Kahili King.
May 4, Volcano, Big Island, Huna Talk by Serge Kahili King
and much more...
---
At The Huna Store:
The Dynamind Course