Aloha Newsletter
April 2015
Aloha Everyone! We hope you enjoy our newsletter, but if you wish to be removed from our list, please reply to this email with"Remove" in the subject line and we will delete your name from our mailing list.
Click here to view this email in your browser
---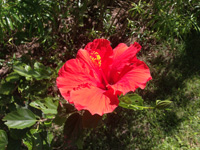 Excerpt from "Reflections On Being An Adventurer" by Stewart Blackburn: "Many people find that accepting the responsibilities of power to be quite scary. The internal sensations of power can seem overwhelming and the effects of one's use of power can be intensely dramatic. Feeling the moment of power, that place where the past and the future are right there in the present, I find to be very intense. I think it takes a great deal of focus and a big willingness to be in intensity to hang out there. Thus, the adventurer needs to be able to hold onto him/herself in the face of his/her own hugeness, strength and brightness.." (read the whole article at http://www.huna.org/html/reflections.html)
---
Inspirations
"When eating bamboo sprouts, remember the man who planted them." - Chinese proverb
NOTE!: The May newsletter will not be emailed due to travel, but it will be available on the first of May at http://www.huna.org/Email/alohanews0515.html.
Online:
Send your healing requests to huna@huna.org;
Join the Hunatics Group on Facebook and connect with a lively group of sharing, helpful people;
Participate in our Online Healing Circle at http://www.huna.org/html/hcircle.html.
Participate in our Huna Discussion Group every Wednesday in Second Life at 8am Hawaii time ((South end of Ruby Caye at the Eye of Kanaloa Circle).
---
Current Articles on the Web at Huna.org:
"How To Feel Good About Yourself" by Serge Kahili King
"Where Is Your Pearl?" by Peggy Kemp
"Mercury Is In Retrograde" by Graeme Kapono Urlich
"The Fear Of Criticism" by Stewart Blackburn
"Shapeshifting The Future" by Jim Fallon
---
Upcoming Events
Check the Huna Calendar for:
April 13-17, Big Island, Magic of Manifesting course by Serge Kahili King. Contact huna@huna.org.
April 25-26, Neu-Ulm, Germany, Huna for harmony by Susanne Weikl, contact: suwei@arcor.de.
May 11~31, Kauai, 21 Day Training/Adventure, Traditional Lomi & Shamanic Bodywork. Contact: wayne@shamanicbodywork.com 808-431-4549.
and much more...
---
At The Huna Store:
New product: The Art of Scrying, a technique guide in PDF format.
No physical orders processed during the month of May.