Aloha Newsletter
June 2012
Aloha Everyone! We hope you enjoy our newsletter, but if you wish to be removed from our list, please reply to this email with"Remove" in the subject line and we will delete your name from our mailing list.
Click here to view this email in your browser
---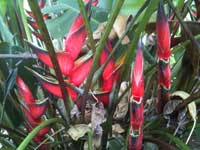 Excerpt from "My Teacher The Horse" by by Bev Brody Skerik: "(Energy does flow where attention goes-this was on a horseback ride) Our guide, Annie, explained to us if you want your horse to go to the right, gently pull on the right side of the rein, kick slightly with your left foot and most importantly, she says, LOOK IN THE DIRECTION YOU WANT TO GO. She went on to tell us if you want your horse to go to the left, gently pull on the left rein, give a slight kick with your right foot and again she emphasized...LOOK IN THE DIRECTION YOU WANT TO GO."
---
Making The World A Better Place
("To bless" in Hawaiian is "ho'omaika'i" and it means to increase the goodness of someone or something. We can bless with words, with visions, and with actions)
Globally: Bless the peacemakers in Sudan, the power of fish to survive fishing, and the coming of rain to West Africa.
Locally: Avoid blisters and medicine while doing any hard work with your hands by putting talcum powder on them beforehand, even if you use gloves. It will help absorb moisture and reduce friction.
Online:
Send your healing requests to huna@huna.org;
Join Serge Kahili King on Facebook (add a message) and connect with a lively group of sharing, helpful people;
Participate in our Online Healing Circle at http://www.huna.org/html/hcircle.html.
Participate in our global healing work and classes at Huna Village in Second Life.
---
Current Articles on the Web at Huna.org:
"How To Heal Addictions," by Serge Kahili King
"Adventurer's Mistakes," by Stewart Blackburn
"The Way of Aloha," by Wayne Kealohi Powell
---
Upcoming Events
Check the Huna Calendar for:
July 1, Huna Talk in Second Life and Volcano Village by Serge Kahili King
July 9-13, Hawaiian Shaman Course by Serge Kahili King and Susan Pa'iniu Floyd on Big Island
July 11-17, Lomi Workshop by Wayne Powell on Kauai
and much more...
---
At The Huna Store:
"Huna Looks At Nature" audio set on sale for $12.00
Hawaiian Name Keychains