Aloha Newsletter
June 2014
Aloha Everyone! We hope you enjoy our newsletter, but if you wish to be removed from our list, please reply to this email with"Remove" in the subject line and we will delete your name from our mailing list.
Click here to view this email in your browser
---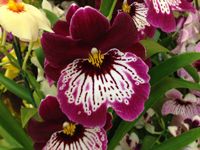 Exerpt from "The Lucky Shaman" by Jim Fallon: "Luck is predictable, it can be controlled. By concentrating on several "luck factors"- key areas of your life that influence your future success - you can take the reins of chance and feel yourself racing forward at a greater rate than you have ever imagined, by simply using a few tools and skills. What do "lucky" people do that gives them the advantage that makes a difference? And, more importantly, what do Shamans do to enhance luck? They listen to and use and develop their intituation. They see and take advantage of opportunities. We do have the power to put ourselves into lucky positions in life." (read the whole article at http://www.huna.org/html/lucky_shaman.html)
---
Inspirations
"To be successful, the first thing to do is to fall in love with your work." - Sister Mary Lauretta
Online:
Send your healing requests to huna@huna.org;
Join Serge Kahili King on Facebook and connect with a lively group of sharing, helpful people;
Participate in our Online Healing Circle at http://www.huna.org/html/hcircle.html.
Participate in our Huna Discussion Group every Wednesday in Second Life Wednesdays at 8am Hawaii time ((South end of Ruby Caye at the Circle).
---
Current Articles on the Web at Huna.org:
"How To Live Aloha" by Serge Kahili King
"What's All This Huna Stuff, Anyway?" by Stewart Blackburn
"Keep Your Focus," by Susanne Weikl
Other Updates at Huna.org:
Hunamail
Huna Happenings
---
Upcoming Events
Check the Huna Calendar for:
June 21-22, Basel, Switzerland, MahinaLomi by Christine Spycher-Mandel
July 14-18, Big Island, Hawaiian Shaman Practice by Serge Kahili King and Susan Pa'iniu Floyd
July 19, Big Island, The Secrets of Self-Love: A Workshop by Stewart Blackburn
and much more...
---
At The Huna Store:
Most video and all audio are now available as downloads.