Aloha Newsletter
July 2012
Aloha Everyone! We hope you enjoy our newsletter, but if you wish to be removed from our list, please reply to this email with"Remove" in the subject line and we will delete your name from our mailing list.
Click here to view this email in your browser
---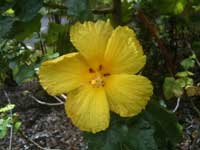 Excerpt from "Negatively Speaking" by Graeme Kupono Urlich: "The sub-conscious mind works on pure logic and does not know about context when we use language. Unless we pay particular conscious attention to context, the sub-conscious will often pick out key words in a sentence and use those to generate experience or feeling. If most of the words are negatives, or have negative associations for your sub-conscious, then most of the experiences and feelings will tend toward the negative. The seemingly insignificant rephrasing of descriptions and requests (in a positive way) can have a tremendous effect on the way we experience life."
---
Making The World A Better Place
("To bless" in Hawaiian is "ho'omaika'i" and it means to increase the goodness of someone or something. We can bless with words, with visions, and with actions)
Globally: Bless the ending of fires in the Western USA, the calming of emotions in the Middle East, and the recovery from flooding in the UK.
Locally: To save money when shopping for groceries, remember the word HALT - hungry, angry, lonely, tired. Don't shop when you are feeling any of these and you will buy better food and less of it.
Online:
Send your healing requests to huna@huna.org;
Join Serge Kahili King on Facebook (add a message) and connect with a lively group of sharing, helpful people;
Participate in our Online Healing Circle at http://www.huna.org/html/hcircle.html.
Participate in our global healing work and classes at Huna Village in Second Life.
---
Current Articles on the Web at Huna.org:
"Healing Bad Memories," by Serge Kahili King
"A Shaman in the Kitchen: Cooking the Seven Elements," by Stewart Blackburn
"How To Figure Out What You Want, by Brian Higgins
---
Upcoming Events
Check the Huna Calendar for:
July 9-13, Hawaiian Shaman Practice Course by Serge Kahili King and Susan Pa'iniu Floyd on Big Island
July 16-20, Hawaiian Shaman Intensive Course by Serge Kahili King on Big Island
July 21-31, Hawaiian Massage Courses by Susan Pa'iniu Floyd on Kauai
and much more...
---
At The Huna Store:
"The Goddess Stories" video on sale for $39.95
"Empire's End," a tale of Atlantis by Serge Kahili King