Aloha Newsletter
July 2013
Aloha Everyone! We hope you enjoy our newsletter, but if you wish to be removed from our list, please reply to this email with"Remove" in the subject line and we will delete your name from our mailing list.
Click here to view this email in your browser
---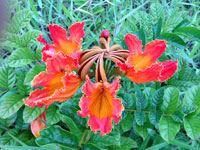 Excerpt from "Of Aliens And Men" by Jo Danieli: "I saw Serge King in different workshops, and I watched people with tears in their eyes trying to get the longest hug of all. Why was that? Because they were so grateful for what he had taught them? Because of his "charisma", the "mana" of his personality? Yes, and they admire HIM for what HE has learned: for his role as a leader and idol. They are grateful that he lives there, somewhere on this planet, as a pillar to hold on to, an anchor for their floating hopes, comforting, that there will always be the "father" to come running to in case of emergency. "Isn't he wonderful?" sighed a nice lady in Vienna one day during the "Creative Energy" workshop and asked me whether I had read the "Urban Shaman" yet. I had, and I asked her back which of the techniques she liked best and which worked best for her. "Techniques?" she shook her head, waved her hand, "... my gosh, he is the shaman! And I don't have time to try it out in all my stress, but isn't it wonderful that people like him exist?" ... then she had to hurry to get some of Serge's energy before he could leave the room. ." (read the whole article on www.huna.org/html/alienmen.html)
---
Making The World A Better Place
We are featuring Healing and Huna Groups of any kind that meet on a regular basis. In addition to making it known here, the group information will be posted in the Healing section of our main website. If you belong to a group that wants to be listed, please let us know.
Featured Group: Aloha Healing Center, 5021 W. 21st St., Los Angeles, CA 90016. Contact Claudette Dean (claudettendean@yahoo.com) for time and date.
Online:
Send your healing requests to huna@huna.org;
Join Serge Kahili King on Facebook (add a message) and connect with a lively group of sharing, helpful people;
Participate in our Online Healing Circle at http://www.huna.org/html/hcircle.html.
Participate in our Huna Discussion Group every Wednesday in Second Life.
---
Current Articles on the Web at Huna.org:
"Time Travel Is Tricky," by Serge Kahili King
"The Fly And I," by Stewart Blackburn
Other Updates at Huna.org:
Hunamail
Huna Happenings
Creative Corner
---
Upcoming Events
Check the Huna Calendar for:
July 8-12, Big Island, Hawaiian Shaman Practice by Serge Kahili King and Susan Pa'iniu Floyd
July 8-12, Sunshine Coast, BC. Canada, Lomilomi Massage, Lomi Two by Wayne Powell
August 4, Volcano, Big Island, HunaTalk by Serge Kahili King
and much more...
---
At The Huna Store:
July Special: "Huna Looks At Nature" audio set $12.00