Aloha Newsletter
August 2012
Aloha Everyone! We hope you enjoy our newsletter, but if you wish to be removed from our list, please reply to this email with"Remove" in the subject line and we will delete your name from our mailing list.
Click here to view this email in your browser
---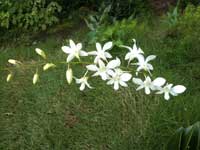 Excerpt from "The Deeper Meaning of Aloha" by Curby Rule: "Nature is where we can gain the wisdom to make responsible choices if we approach with Aloha in our heart. With an attitude of Aloha we can gain from the wisdom of the wind and the wisdom of the water and the wisdom of the soil and the wisdom of the trees and learn from the truths and revelations presented by the non-human community."
---
Making The World A Better Place
("To bless" in Hawaiian is "ho'omaika'i" and it means to increase the goodness of someone or something. We can bless with words, with visions, and with actions)
Globally: Bless the recovery from flooding in East Asia, recovery from storms in the Eastern USA, and the restoration of electric power in India.
Locally: If you buy juice from concentrate, save big by buying the frozen kind and adding your own water, rather than paying for the water in the pre-mixed container.
Online:
Send your healing requests to huna@huna.org;
Join Serge Kahili King on Facebook (add a message) and connect with a lively group of sharing, helpful people;
Participate in our Online Healing Circle at http://www.huna.org/html/hcircle.html.
Participate in our global healing work and classes at Huna Village in Second Life.
---
Current Articles on the Web at Huna.org:
"Healing Bad Memories," by Serge Kahili King
"A Shaman in the Kitchen: Cooking the Seven Elements," by Stewart Blackburn
"How To Figure Out What You Want, by Brian Higgins
---
Upcoming Events
Check the Huna Calendar for:
September 10-14, Hawaiian Massage Workshop by Susan Pa'iniu Floyd on Big Island with Japanese translation
October 3-7, Hawaiian Massage Workshop by Susan Pa'iniu Floyd in Poland
October 22-26, A Huna Adventure Course by Serge Kahili King on Big Island
and much more...
---
At The Huna Store:
"The Mystic Wisdom of Hawaii" video on sale for $12.00
"The Okora Mask," a new edition of Serge Kahili King's first published novel