Aloha Newsletter
August 2013
Aloha Everyone! We hope you enjoy our newsletter, but if you wish to be removed from our list, please reply to this email with"Remove" in the subject line and we will delete your name from our mailing list.
Click here to view this email in your browser
---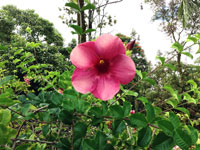 Excerpt from "Soul Mates" by Fern Merle-Jones: "Firstly, I believe that soul mates are not found, they are created. What does that mean? I believe that creating a soul mate is a process, not a discovery. Okay, so how do you "create a soul mate?" Well, first you have to create a relationship. This might sound obvious at first. However, in my Huna workshops I hear over and over again that participants do not want to create partners to explore a relationship with, they want to have full fledged, committed relationships with the perfect person to appear out of the blue, right now! I understand that after being hurt in the past, a person may feel unwilling to "risk" failure. But I must say that this unwillingness to "risk" may also be why they are not in a love relationship. Just as in any endeavor, the outcome is not guaranteed. One must be willing to take a risk, cross the line and go for your dreams. If I had judged my future with Michael by our first year together, I would have never believed that we would achieve the success and happiness in our relationship that we experience today." (read the whole article at www.huna.org/html/25years.html)
---
Making The World A Better Place
We are featuring Healing and Huna Groups of any kind that meet on a regular basis. In addition to making it known here, the group information will be posted in the Healing section of our main website. If you belong to a group that wants to be listed, please let us know.
Online:
Send your healing requests to huna@huna.org;
Join Serge Kahili King on Facebook (add a message) and connect with a lively group of sharing, helpful people;
Participate in our Online Healing Circle at http://www.huna.org/html/hcircle.html.
Participate in our Huna Discussion Group every Wednesday in Second Life Wednesdays at 8am Hawaii time (http://maps.secondlife.com/secondlife/Hitaki/180/202/82).
---
Current Articles on the Web at Huna.org:
"Time Travel Is Tricky," by Serge Kahili King
"The Fly And I," by Stewart Blackburn
Other Updates at Huna.org:
Hunamail
Huna Happenings
Creative Corner
---
Upcoming Events
Check the Huna Calendar for:
August 11-18, Sunshine Coast, BC. Canada, Aloha Mana Temple Style Lomi Intensive, Lomi Three by Wayne Powell
September 2-6, Big Island, "Advanced Manifesting" Course with German translation, by Serge Kahili King
September 10-December 3, Online, Heal Your Life With Huna, taught by Katherine Veilleux
and much more...
---
At The Huna Store:
New Item: "Deep Personal Programming: A Manual for Techie Hunatics" in Books.