Aloha Newsletter
September 2012
Aloha Everyone! We hope you enjoy our newsletter, but if you wish to be removed from our list, please reply to this email with"Remove" in the subject line and we will delete your name from our mailing list.
Click here to view this email in your browser
---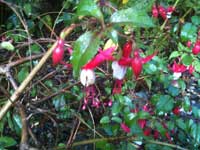 Excerpt from "A Blessing In Disguise" by Fern Merle-Jones: "If you should ever experience a sudden shift of fortune, an unexpected ending to the path you thought was yours, you might examine yourself to see whether your heart was really wanting to move in that direction. For what seems at first to be a failure could truly be a blessing in disguise."
---
Making The World A Better Place
("To bless" in Hawaiian is "ho'omaika'i" and it means to increase the goodness of someone or something. We can bless with words, with visions, and with actions)
Globally: Bless the recovery from flooding in the Southern USA, the peacemakers in the Middle East, and the success of alternative energy sources.
Locally: Want to re-use a nice bottle but the old scent still lingers? Wash out the bottle with soap and water, rinse, fill with rubbing alcohol, and let it sit for a couple of days. Then empty it, rinse with clear water, let it dry, and it's scent-free. And the alcohol can still be used for cleaning and removing sticky glue from labels.
For Aloha International: We participate in the September GiveAloha program of matching donor funds by Foodland and Sack 'n Save supermarkets in Hawaii. Mention Aloha International at the checkout counter with or without a purchase and you can help us do our thing with a donation $1.00 to $249.00.
Online:
Send your healing requests to huna@huna.org;
Join Serge Kahili King on Facebook (add a message) and connect with a lively group of sharing, helpful people;
Participate in our Online Healing Circle at http://www.huna.org/html/hcircle.html.
Participate in our global healing work and classes at Huna Village in Second Life.
---
Current Articles on the Web at Huna.org:
"The Radical Response," by Serge Kahili King
"How To Develop Your Forgetory," by Stewart Blackburn
"Huna And The Body," by Pete 'Ike Dalton
"Another Sound Of One Hand Clapping," by Ivan Kovacs
At Creative Corner:
"Back To The Stars," a tribute to Neil Armstrong by Serge Kahili King

---

Upcoming Events
Check the Huna Calendar for:
September 20-December 13, Online Huna Course by Katherine Veilleux
October 3-7, Hawaiian Massage Workshop by Susan Pa'iniu Floyd in Poland
October 22-26, The Magic of Manifesting Course by Serge Kahili King on Big Island
and much more...

---

At The Huna Store:
ON VACATION from 13-27 September. All orders except downloads received during that period will be shipped in October.