Aloha Newsletter
October 2010
Aloha Everyone! We hope you enjoy our newsletter, but if you wish to be removed from our list, please reply to this email with"Remove" in the subject line and we will delete your name from our mailing list.
Click here to view this email in your browser
---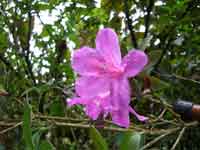 Excerpt from "A Time for Knowledge" by Serge Kahili King:
"There are mysteries to study and decipher;
There are skills I want to sharpen and apply;
Worlds of wonder and adventure still await me;
Says my Spirit: you must grow or you must die."
---
Making The World A Better Place
Globally: You can help Pakistan's flood survivors by donating to Americares online at http://www.americares.org or by phone at 1-800-486-HELP (4357).
Locally: Avoid unnecessary electronic dumping. If you have a scratched LCD screen, rather than replace it or the device itself, try this - a) wipe off the scratched area, then buff out the scratch with a clean pencil eraser (remove eraser shavings); b) after wiping off the scratch with a soft cloth, rub petroleum jelly into the scratch and wipe away any excess.
Online: Join Serge Kahili King on Facebook (add a message) and connect with a lively group of sharing, helpful people; send your healing requests to huna@huna.org; participate in our global healing work at Huna Village in Second Life.
---
Current Articles on the Web at Huna.org:
"Executive Functioning," by Serge Kahili King
"A Dog's Life," by Fern Merle-Jones
"Changing Ku Source Code" by Mai-Britt Rosendal
"Native of Owhyhee," by Jo Danieli
"Solving Problems with Feng Shui and Huna," by Jim Fallon
---
Upcoming Events
Check the Huna Calendar for:
October 2, Australia, "Celebration of Hawaii"
October 6, Second Life, Huna class by Serge Kahili King
October 13-17, Germany, Hawaiian Massage by Susan Pa'iniu Floyd
and much more...
---
At The Huna Store:
Changing Reality, Serge Kahili King's latest book.
---
Mai 'ena i ke kanaka i laka aku
Treat one who comes in kindness with kindness