Aloha Newsletter
October 2013
Aloha Everyone! We hope you enjoy our newsletter, but if you wish to be removed from our list, please reply to this email with"Remove" in the subject line and we will delete your name from our mailing list.
Click here to view this email in your browser
---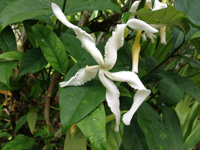 Excerpt from "After The Storm" by Jo Danieli: "Entering the Huna life sometimes feels like a stormy adventure. A thunder-storm even. With lightning and shocking sounds, rain that pours like out of buckets. Wind and chill. It makes you freeze and want to hide. But always focus on the pleasure of enjoying that clean, sizzling, good smelling air after the storm and on how far you can see in the blank sky! " (read the whole article at www.huna.org/html/storm-jd.html)
---
Making The World A Better Place
We are featuring Healing and Huna Groups of any kind that meet on a regular basis. In addition to making it known here, the group information will be posted in the Healing section of our main website. If you belong to a group that wants to be listed, please let us know.
Featured Group: Huna Healing Circle, at Kalani Oceanside Retreat, Pahoa, Hawaii. Lessons and exercises about life from a Huna perspective with a focus on healing. Led by Stewart Blackburn, the group meets every Thursday at 7:30. Free with donations accepted. 808-965-0940, lomilomiman@gmail.com, www.stewartblackburn.com.
Online:
Send your healing requests to huna@huna.org;
Join Serge Kahili King on Facebook (add a message) and connect with a lively group of sharing, helpful people;
Participate in our Online Healing Circle at http://www.huna.org/html/hcircle.html.
Participate in our Huna Discussion Group every Wednesday in Second Life Wednesdays at 8am Hawaii time (http://maps.secondlife.com/secondlife/Ruby%20Caye/84/44/23).
---
Current Articles on the Web at Huna.org:
""Technique Touch-ups," by Serge Kahili King
"A Horse Named Makia," by Stewart Blackburn
"Here There Were Dragons," by Serge Kahili King
Other Updates at Huna.org:
Hunamail
Huna Happenings
Creative Corner
---
Upcoming Events
Check the Huna Calendar for:

October 14-18, Marburg, Germany, Hawaiian Massage Course by Ruth Ruppert. Contact info@heilpraxis-marburg.de.


October 19, Kalani Oceanside Retreat, Big Island, Essential Skills for a New World Workshop Series, Building up Your Personal Power, taught by Stewart Blackburn, contact Stewart: 808-965-0940,lomilomiman@gmail.com.


October 21-25, Big Island, The Magic of Manifesting course by Serge Kahili King. Contact huna@huna.org.


and much more...

---

At The Huna Store:
Discount Item: "The Essence of Huna" in Audio.