Aloha Newsletter
November 2008
Aloha Everyone! We hope you enjoy our newsletter, but if you wish to be removed from our list, please reply to this email with"Remove" in the subject line and we will delete your name from our mailing list.
Click here to view this email in your browser
---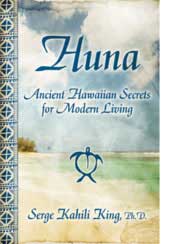 Excerpt from Huna: Ancient Hawaiian Secrets for Modern Living, by Serge Kahili King:
"If you want to change something, you have to change something. If you want to bring another kind of experience into your life, you have to do something to alter your present attitude and behavior so that you will attract this new experience to you."
---
Kilauea Volcano Watch
A few explosions at Halema'uma'u Crater, lava continues to flow into the ocean, and plumes of gas and steam keep pluming.
---
Making The World A Better Place
Project 10to the 100th power is an exciting and practical venture. Here is a quote from the site: "Never in history have so many people had so much information, so many tools at their disposal, so many ways of making good ideas come to life. Yet at the same time, so many people, of all walks of life, could use so much help, in both little ways and big. In the midst of this, new studies are reinforcing the simple wisdom that beyond a certain very basic level of material wealth, the only thing that increases individual happiness over time is helping other people."
---
Aloha International News
Serge Kahili King's newest book, "Huna: Ancient Hawaiian Secrets for Modern Living," has just been published by Beyond Words and Atria Books. Look for it at The Huna Store (see below) and in e-book form at Amazon's Kindle library and the Simon & Schuster web page. Serge Kahili King has just returned from a successful teaching tour in Switzerland, Germany, Austria, and Poland; and Susan Pa'iniu Floyd did very succesful teaching of Hawaiian massage, hula, and Huna in Austria, Poland, and Russia.
---
Current Articles on the Web at Huna.org:
""Our Destiny," by Serge Kahili King
"I Feel Like I Was Being Tested," by Graeme Kupono Urlich
---
Send your healing requests to huna@huna.org and participate in our world-wide healing work at the Healing Hut.
---
At The Huna Store:
A special sale on the Hawaiian Shaman Healer Training Workshop in MP3 format; deep discount on Serge's novel, "Dangerous Journeys," and of course Serge's new book (see above).
---
Upcoming Events
Check the Huna Calendar for:
December 1-5, Big Island, Hawaiian Massage Workshop by Susan Pa'iniu Floyd with German translation.
December 7 , Virtual Huna Village in Second Life, Talk Story with Serge Kahili King at 11am PST.
December 7, Big Island, Talk Story with Serge Kahili King at 7 pm Hawaii Time.
and much more...
---
Hiki mai ka 'ino, a hiki mai no ka malie
Bad weather comes, and good weather comes, too.