Aloha Newsletter
November 2009
Aloha Everyone! We hope you enjoy our newsletter, but if you wish to be removed from our list, please reply to this email with"Remove" in the subject line and we will delete your name from our mailing list.
Click here to view this email in your browser
---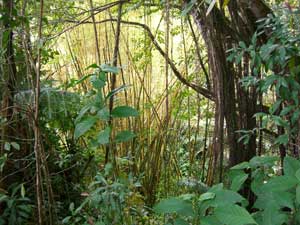 Excerpt from Huna: Ancient Hawaiian Secrets for Modern Living by Serge Kahili King: "When you think of someone, bless them, pray for them, or send them energy, you are not really doing anything to them or for them directly. Their Ku is taking what you are sending, translating it into its own terms, and using it in its own way."
---
Hawaii's Kilauea Volcano Watch
Halema'umau Crater is showing varying glows and spatter from deep within a crevice. Lava flows are active on the coastal plain. Lava is also flowing through tubes to the coast and entering the ocean at two locations west of Kalapana.
---
Making The World A Better Place
The journal "Angewandte Chemie" reports a budding technology that uses optical fibers and nanometer-scale wire to produce compact collectors for solar power generation. And a Hawaii company has a project to use cold ocean water for air-conditioning Honolulu buildings.
Red Cross Societies in Samoa and Tonga and the American Red Cross in American Samoa are playing a vital role in humanitarian relief efforts following an early morning 8.3 magnitude earthquake and its resulting tsunami. They are being supported by the International Federation of Red Cross and Red Crescent Societies, the New Zealand Red Cross and other partners in the region.
---
Aloha International News
Aloha International's Hula Halau, Na Lei Kupua o Kaua'i, performed chants and two dances at the Queen Emmalani Festival at Kokee Park on Kauai.
Second Life: Hawaiian flags have been added to all the buildings in the Huna Village area.
---
Current Articles on the Web at Huna.org:
"Feelings," by Serge Kahili King
"The Latest 'Ultimate' Secret," by Graeme Urlich
"A Huna Story About Serge," by Lynne Volker
"The Hidden Island of Kane," by Jim Fallon
"Makia," by Mai-Britt Rosendal
---
Send your healing requests to huna@huna.org and participate in our world-wide healing work at the Healing Hut and at the Global Healing Circles in Second Life.
---
At The Huna Store:
Price reductions on jewelry.
---
Upcoming Events
Check the Huna Calendar for:
November 22-28, Big Island, Kino Mana with Susan Pa'iniu Floyd.
November 29-December 5, Big Island, Huna Intensive with Kawaikapu Hewett.
December 6, Big Island, Huna Talk with Serge Kahili King.
and much more...
---
'Ike au ka 'oi o ka nani e po ai nei
I see the best of the beauty that surrounds me