Aloha Newsletter
January 2011
Aloha Everyone! We hope you enjoy our newsletter, but if you wish to be removed from our list, please reply to this email with"Remove" in the subject line and we will delete your name from our mailing list.
Click here to view this email in your browser
---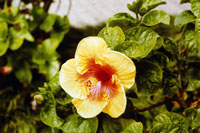 Excerpt from "A Different Point of View" by Serge Kahili King: "Fear, anger, hate, jealousy, anxiety are all expressions of insecurity with their own parallel to physical pain, and the body tension that accompanies them is a well-intentioned but poor attempt to regain security. Happiness, joy, true pride, and the sense of accomplishment are all expressions of confidence, which is akin to physical pleasure. The names that are given to emotions based on insecurity or confidence merely reflect the thoughts in our mind at the time."
---
Making The World A Better Place
Globally: Visit http://www.worldchanging.com/ for "solutions-focused reporting on innovations."
Locally: Make good use of leftover natural charcoal. Charcoal absorbs moisture, so a couple of lumps in your toolbox will help keep tools from rusting; place a few pieces in a bit of pantyhose and keep them in drawers, closets, or even a fridge to prevent mold and mildew and keep air fresh.
Online: Join Serge Kahili King on Facebook (add a message) and connect with a lively group of sharing, helpful people; send your healing requests to huna@huna.org; participate in our global healing work at Huna Village in Second Life.
---
Current Articles on the Web at Huna.org:
"What To Do When You Don't Know What To Do," by Serge Kahili King
"More Lessons from Games," by Graeme Kapono Urlich
"The Wish-Fulfilling Tree," by Stewart Blackburn
"The Power of Intention," by Cristina Bar Sela
"Remote Viewing," by Jim Fallon
"Huna Helper," by Diane Koerner
---
Upcoming Events
Check the Huna Calendar for:
January 31-February 4, Big Island, A Huna Adventure by Serge Kahili King
February 6, Big Island, Huna Talk by Serge Kahili King
February 9, Second Life, Huna workshop by Serge Kahili King
and much more...
---
At The Huna Store:
Psychic Development Home Study Course.
---
Hawaiian language lesson: "Alia!" means "Wait a minute!"