Aloha Newsletter
November 2011
Aloha Everyone! We hope you enjoy our newsletter, but if you wish to be removed from our list, please reply to this email with"Remove" in the subject line and we will delete your name from our mailing list.
Click here to view this email in your browser
---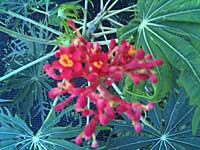 Excerpt from Instant Healing by Serge Kahili King: "Directions are commands, orders, or instructions that you give to your body.. Instead of giving your body a statement, you tell it what to do and, in some cases, how to do it. You are probably already familiar with the idea if you've ever told yourself to 'Relax!' or 'Stay calm!' You could also say, 'Heal! or 'Get well! or 'Feel good!' The really amazing thing is that to the degree you give your directions with confident expectations and right at the onset of symptoms, your body will respond faster than you thought possible."
---
Making The World A Better Place
Globally: In your prayers and meditations, focus on help for recovery of the northeast USA from severe snowstorms, help for earthquake survivors in Turkey, help for polar bears in the Arctic, and any other global healings you wish to add.
Locally: Use vinegar to condition hair, kill weeds, deter ants, soak sore muscles, and remove sticky labels.
Online:
Send your healing requests to huna@huna.org;
Join Serge Kahili King on Facebook (add a message) and connect with a lively group of sharing, helpful people;
Participate in our Online Healing Circle at http://www.huna.org/html/hcircle.html.
Participate in our global healing work at Huna Village in Second Life.
---
Current Articles on the Web at Huna.org:
"The Secret of Luck," by Serge Kahili King
"The Blessing of Dissatisfaction," by Stewart Blackburn
"Infusion Confusion," by Graeme Kapono Urlich
"Snow White and the Seven Principles," by Mai-Britt Rosendal
"More Results With Healing Shapes," by Margrit Strauss
---
Upcoming Events
Check the Huna Calendar for:
November 5-14, Lomi Healer Advanced Training by Wayne Powell
December 4, Huna Talk by Serge Kahili King in Volcano and Second Life
December 7, 2-hour workshop by Serge Kahili King in Second Life
and much more...
---
At The Huna Store:
November Special - Discounts on Audio Workshops
New products: Rainbow Energy Pad, 7 Principles DVD, Sea Crystals Technique Booklet