Aloha Newsletter
November 2014
Aloha Everyone! We hope you enjoy our newsletter, but if you wish to be removed from our list, please reply to this email with"Remove" in the subject line and we will delete your name from our mailing list.
Click here to view this email in your browser
---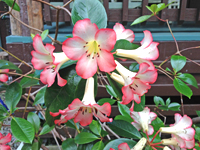 Excerpt from "Welcome To The Land Of Mu" by Lois Stokes: "Legends speak of the lost continent of Mu. Inhabited by people who came from the stars known as the Pleiades. A place of peace and tranquility. Kauai Island, the geologically oldest of the major Hawaiian Islands, is believed by some to be a remnant of this magical garden paradise. How many times have I heard the song of these people? How many times have I heard their whispers of aloha?" (read the whole article at http://www.huna.org/html/welhome.html)
---
Inspirations
"Be like the sun and the meadow, which are not in the least concerned about the coming winter." - Bernard Shaw
Online:
Send your healing requests to huna@huna.org;
Join Serge Kahili King on Facebook and connect with a lively group of sharing, helpful people;
Participate in our Online Healing Circle at http://www.huna.org/html/hcircle.html.
Participate in our Huna Discussion Group every Wednesday in Second Life Wednesdays at 8am Hawaii time ((South end of Ruby Caye at the Circle).
---
Current Articles on the Web at Huna.org:
"The Most Powerful Power Of The Mind" by Serge Kahili King
"Dealing With Those Who Hurt Others" by Stewart Blackburn
"The Paradox Of Assistance" by Pete 'Ike Dalton
"Joy Of Life" by Susanne Weikl
"Leaving Tracks" by Astrid Mohr-Kiehn
---
Upcoming Events
Check the Huna Calendar for:
December 7, Big Island, Huna Talk by Serge Kahili King
December 15-20, Big Island, "Love Heals From Within" by Stewart Blackburn
January 5, Big Island, Huna Talk by Serge Kahili King
and much more...
---
At The Huna Store:
A new research study: "Mana Physics Newsletter"