Aloha Newsletter
December 2007
Aloha Everyone! We hope you enjoy our newsletter, but if you wish to be removed from our list, please reply to this email with"Remove" in the subject line and we will delete your name from our mailing list.
Click here to view this email in your browser
---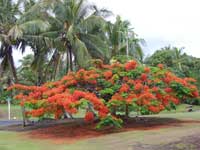 Excerpt from "Imagineering For Health," by Serge Kahili King:
"Your Creative Mind creates your experience by using your thoughts as patterns. It doesn't use every thought, of course. Just those that you dwell on mostly. And the process if virtually automatic. What you have to do is to remember that it is happening and that the rest of you doesn't have to do anything except to take advantage of opportunities as they arise and to keep your thoughts on the kind or life or conditions that you really want to experience."
---
Aloha International News
There was no newsletter in October or November because Serge Kahili King was traveling and teaching in Europe.
The Huna and Hula teachings of Alakai Marta Motak were recently featured on Polish television. To see video clips of the show go to http://dziendobrytvn.onet.pl/4,1453663,poradnik.html.
The Hawaiian Cultural Center at Huna Village in the virtual world of Second Life is almost finished. It now has a fishpond, a temple, a family compound, taro patches, and a river, among other things.
There will be a Christmas Party for members of the Huna Fellowship in Second Life at Melemele, the private section of Aloha International's virtual island, on December 9 at 9 am Hawaii Time. All members of the Aloha Fellowship are eligible to become members of the Huna Fellowship. Email huna@huna.org for more information.
---
Current Articles on the Web at Huna.org:
"On Love" by Serge Kahili King.
New translations on the German page of the Global Hut.
---
Send your healing requests to huna@huna.org and participate in our world-wide healing work at the Healing Hut.
---
At The Huna Store:
A new product: Eye of Kanaloa temporary tatoos for healing and energizing.
---
Upcoming Events
Check the Huna Calendar for:
January 6, Huna Village in Second Life, Talk Story with Serge Kahili King at 9am Hawaii Time.
April 13-18, Big Island, Hunaquest with Serge Kahili King and Fern Merle-Jones.
April 23-27, Munich, Germany, Kino Mana with Susan Pa'iniu Floyd.
and more...
---
He nai'a, he i'a lele - It is a leaping spinner dolphin
Said of one who jumps to conclusions