Aloha Newsletter
December 2013
Aloha Everyone! We hope you enjoy our newsletter, but if you wish to be removed from our list, please reply to this email with"Remove" in the subject line and we will delete your name from our mailing list.
Click here to view this email in your browser
---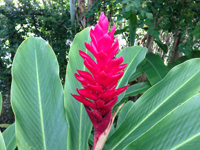 Daily Huna 3: Car Crashes and Cane Spiders" by Peggy Kemp: "There's no tidy ending to this story, just the realization that fear can keep us from holding a tiny wild creature in our hands, feeling its beating heart as it relaxes into the experience with trust. Fear keeps us holding our darkness instead. If we open our hands and hearts, we can invite the wild creatures in, learn from them, and honor their presence in our lives. We can let go of our fears and drive out into the light. " (read the whole article at www.huna.org/html/dhuna3.html)
---
Making The World A Better Place
Next time you hear or read about a disaster, bless the courage, compassion, and strength of all those who are doing their best to help the victims.
Online:
Send your healing requests to huna@huna.org;
Join Serge Kahili King on Facebook and connect with a lively group of sharing, helpful people;
Participate in our Online Healing Circle at http://www.huna.org/html/hcircle.html.
Participate in our Huna Discussion Group every Wednesday in Second Life Wednesdays at 8am Hawaii time (http://maps.secondlife.com/secondlife/Ruby%20Caye/84/44/23).
---
Current Articles on the Web at Huna.org:
"Memories & Experience," by Serge Kahili King
"An Opportunity For Growth," by Susan Pa'iniu Floyd
"Ha Ha Ha," by Stewart Blackburn
"Who Do You Want To Be?" by Astrid Mohr-Kiehn
"The Power of Kahi," by Margrit Strauss
Other Updates at Huna.org:
Hunamail
Huna Happenings
Creative Corner
---
Upcoming Events
Check the Huna Calendar for:

December 14, Kalani Oceanside Retreat, Big Island, Expanding Your Psychic Skills, taught by Stewart Blackburn
January 3-March 20, Online, Healing Relationships Course in German by Hildegard Keppels
January 5, Volcano, Big Island, Huna Talk by Serge Kahili King
and much more...

---

At The Huna Store:
Book Deal: Order the PDF version of Healing For The Millions and get Endless Energy added for free.