Aloha Newsletter
February 2008
Aloha Everyone! We hope you enjoy our newsletter, but if you wish to be removed from our list, please reply to this email with"Remove" in the subject line and we will delete your name from our mailing list.
Click here to view this email in your browser
---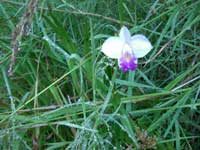 Excerpt from Dangerous Journeys by Serge Kahili King:
"When someone explains something in a way you don't agree with, just remember that he or she is only expressing a set of beliefs. Let them believe what they want and keep your own counsel. Explore their ideas, if you wish but don't feel obliged either to accept theirs or defend your own."
---
Volcano Watch
New lava flows reached into the upper part of Royal Gardens subdivision, and sulfur dioxide attained hazardous levels around Pele's home at Halemaumau Crater.
---
Aloha International News
Our hula troupe, "Na Lei Kupua O Kauai," performed at the Martin Luther King, Jr. celebration on Kauai in January.

We now have over one thousand members of the Aloha Fellowship who have pledged to do their best to make the world a better place.

The latest addition to our virtual Huna Village in Second Life is a large Eye of Kanaloa in the center of the village which serves as an energizing meditation circle. We have also added a wandering black pig in front of the huts in the Hawaiian Cultural Center.
---
Current Articles on the Web at Huna.org:
"The Age of Electronic Shamanism" by Serge Kahili King.
"Virtual Shaman," by Lois Stokes.
---
Send your healing requests to huna@huna.org and participate in our world-wide healing work at the Healing Hut.
---
At The Huna Store:
A Shell Energy Kit for a different way of healing.
---
Upcoming Events
Check the Huna Calendar for:
February 7-May 1, Urban Shaman Online Course with Katherine Veilleux.
March 2, Huna Talks at Cooper Center in Volcano and Huna Village in Second Life.
April 13-18, Big Island, Hunaquest with Serge Kahili King and Fern Merle-Jones.
April 23-27, Munich, Germany, Kino Mana with Susan Pa'iniu Floyd.
and more...
---
E waikahi ka pono i manalo
It is well to be united in thought that all may have peace