Aloha Newsletter
February 2009
Aloha Everyone! We hope you enjoy our newsletter, but if you wish to be removed from our list, please reply to this email with"Remove" in the subject line and we will delete your name from our mailing list.
Click here to view this email in your browser
---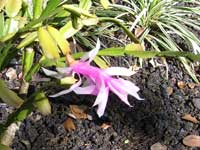 Excerpt from Huna: Ancient Secrets for Modern Living, by Serge Kahili King:
"Anytime you make a change in your beliefs that includes a change in the way you respond to the world or think about yourself, you are producing a change in your personality that will alter your experience. Your life will have changed because you have changed yourself."
---
Hawaii's Kilauea Volcano Watch
The steam clouds at Halema'uma'u and Pu'u 'O'o are blowing away from eastside population centers and continue to put out lots of sulfur dioxide. Earthquakes have been felt recently. Ocean flows and explosions continue. A broad lava flow is still creeping west along the coastal plain.
---
Making The World A Better Place
For building and living green in on Kauai, go to http://islandgreenkauai.com/.
For certified organic cosmetic and nutritional products, go to http://www.neworganicways.biz.
---
Aloha International News
Aloha International's Hula Halau, Na Lei Kupua O Kauai, will have a Ho'ike, a Hawaiian expression meaning a presentation of dances learned the previous year, on February 20th at the Church of the Pacific on the North Shore of Kauai. Email bless2u@aloha.net for more information.
Three-hour courses given monthly at the Hale Huna center in Volcano on the Big Island have been changed to 2-hour courses.
Second Life: A new Prosperity Center has been created above Huna Village, consisting of an Arabian-style pavilion with a stable of exotic cars, and a Baroque palace with an operational grand piano and reproductions of furniture from King Ludwig's palace in Bavaria.
---
Current Articles on the Web at Huna.org:
""Significant Numbers," by Serge Kahili King
"It's A Blackbird," by Graeme Kupono Urlich
---
Send your healing requests to huna@huna.org and participate in our world-wide healing work at the Healing Hut and at the Global Healing Circles in Second Life.
---
At The Huna Store:
New: The store now features an Ali'i Shop with more high-end items like pearl pendants and necklaces.
---
Upcoming Events
Check the Huna Calendar for: dd>February 12-May 7, Online, "Urban Shaman" internet workshop with Katherine Veilleux.
March 1, Virtual Huna Village in Second Life, Talk Story with Serge Kahili King.
March 1, Volcano, Big Island, "Love & Be Loved with Huna" 2-hr workshop with Serge Kahili King.
March 1, Volcano, Big Island, Huna Talk with Serge Kahili King.
and much more...
---
Huli ke alo i ka paia
Turn the face to the wall
(To sleep thus is a sign of confidence)