Aloha Newsletter
March 2009
Aloha Everyone! We hope you enjoy our newsletter, but if you wish to be removed from our list, please reply to this email with"Remove" in the subject line and we will delete your name from our mailing list.
Click here to view this email in your browser
---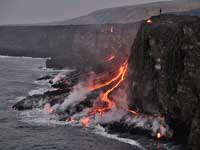 Excerpt from Personal Sovereignty, by Serge Kahili King:
"Ultimately, we each have only as much sovereignty as we can demonstrate. Having sovereign rights and being sovereign are not the same thing. The way to increase your personal sovereignty is to increase your use of free will. The way to do that is to decide for yourself what actions to take and reactions to have in any situation."
---
Hawaii's Kilauea Volcano Watch
At the time of this writing everything is very quiet. Halema'uma'u still puts out a plume without any glowing in the crater. Pu'u 'O'o Crater has a plume, but no incandescence. Waikapunaha ocean entry is still flowing, but without any explosions.
---
Making The World A Better Place
Please correct the link "for certified organic cosmetic and nutritional products" to http://www.neworganicways.biz.
The latest entry in the Greener Gadgets Design Competition is Recompute, a sustainably-designed computer. The case is made of corrugated cardboard instead of multiple materials. The manufacturing process is non-toxic and only three major electronic components are included: a motherboard with processor and memory, a power supply and a hard drive.
---
Aloha International News
At the Aloha International Hula Halau presentation of dances in February, one photo of Kumu Hula Kawaikapu Hewett turned out very strange. See it at http://www.huna.org/html/Hoike09/.
Second Life: Some walls of the Baroque Palace have been decorated with portraits of Hawaiian monarchs. Tex Loring's "Funology Center" on Holani Island now has a free hang glider ride for everyone, and there is a well-stocked fishing dock by the Hospitality House.
---
Current Articles on the Web at Huna.org:
"The Chemistry of Love," by Serge Kahili King
"Savoring and Huna," by Dan Green
"Positive Thinking," by Graeme Kupono Urlich
"Quantum and Kala," by Bill Russell
---
Send your healing requests to huna@huna.org and participate in our world-wide healing work at the Healing Hut and at the Global Healing Circles in Second Life.
---
At The Huna Store:
New: Access Serge Kahili King's novel, "Dangerous Journeys," through our Amazon link in Kindle ebook format.
---
Upcoming Events
Check the Huna Calendar for: dd>April 5, Huna Village in Second Life, Huna Talk with Serge Kahili King
April 5, Volcano, Big Island, "Huna and Healing" 2-hr workshop with Serge Kahili King
April 8, Alakai Island in Second Life, "Huna and Healing" 2-hr workshop with Serge Kahili King
and much more...
---
A'o i ke koa, e a'o no i ka holo
When one learns to be a warrior, one must also learn to run
(To truly learn a skill, one must learn everything related to the skill)