Aloha Newsletter
April 2008
Aloha Everyone! We hope you enjoy our newsletter, but if you wish to be removed from our list, please reply to this email with"Remove" in the subject line and we will delete your name from our mailing list.
Click here to view this email in your browser
---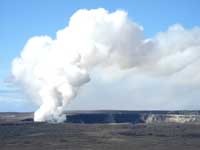 Excerpt from "A Time For Knowledge," by Serge Kahili King:
"Ike no i ka la o ka 'ike, mana no i ka la o ka mana. This Hawaiian proverb is usually translated as 'a time for knowledge, and a time for power.' It refers to doing what is appropriate at the appropriate time. When it's time to gather knowledge, gather knowledge; when it's time to use power, use power. Life works better for us when we follow its rhythms."
---
Kilauea Volcano Watch
Lava is pouring into the sea in dozens of small streams. Clouds of gas and ash are pouring into the air from Halema'uma'u Crater, which also had its first explosion since 1924.
---
Aloha International News
Twenty-nine students from Poland came to Big Island in March to study Hawaiian massage and hula.

Alakai Mary Kelly, director of Aloha International's Breast Wishes Institute and co-author of Chicken Soup For The Breast Cancer Survivor's Soul, has recently been honored for doing exceptional work for the breast cancer cause by being named as one of only 25 national "Yoplait Champions."

Seven new video clips are available on the big screen at Huna Village in Second Life.
---
Current Articles on the Web at Huna.org:
"On Prayer" by Serge Kahili King.
"What About Me?" by Serge Kahili King.
"Reflections On Being An Adventurer" by Stewart Blackburn.
"Catching The Kahuna Wave," by Wayne Kealohi Powell.
"Losing Weight With Huna," by Pohaku.
"In Memoriam: Jesse Kostin"
---
Send your healing requests to huna@huna.org and participate in our world-wide healing work at the Healing Hut.
---
At The Huna Store:
Genuine Tahitian Black Pearls at great prices.
---
Upcoming Events
Check the Huna Calendar for:
April 6, Huna Talks at Cooper Center in Volcano and Huna Village in Second Life.
April 13-18, Big Island, Hunaquest, a personal development course with Serge Kahili King and Fern Merle-Jones. Come and see the lava flowing.
April 23-27, Munich, Germany, Kino Mana with Susan Pa'iniu Floyd.
and more...
---
'Ike 'ole i ka helu po, mai ka po mai ka 'oia'i'o
True wisdom comes from inspiration, not from analyzing events