Aloha Newsletter
April 2011
Aloha Everyone! We hope you enjoy our newsletter, but if you wish to be removed from our list, please reply to this email with"Remove" in the subject line and we will delete your name from our mailing list.
Click here to view this email in your browser
---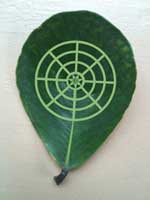 Excerpt from "The Huna Path To World Change" by Serge Kahili King: "Most of the world is in great shape. There are places that very seriously need help, that are potentially dangerous. Absolutely no doubt about it. But don't think that the whole world is polluted, because it isn't. That doesn't mean we don't have to act now. We must act now. In the same way that your whole body might be healthy, but if you've got a sore you're going to work on healing it, right? But don't forget that most of your body is healthy."
---
Making The World A Better Place
Globally: Not sure about who to help or how? Get inspired at the Yahoo for Good: Take Action site.
Locally: Instead of using chemically scented dryer sheets, add a drop or two of your favorite essential oil to a cloth and toss into the dryer with your clothes. It will make your laundry smell wonderful.
Online: Join Serge Kahili King on Facebook (add a message) and connect with a lively group of sharing, helpful people;
Send your healing requests to huna@huna.org;
Participate in our global healing work at Huna Village in Second Life.
---
Current Articles on the Web at Huna.org:
"Pain, Pain, Go Away," by Serge Kahili King
"Origins of Healing Symbols," by Jim Fallon (PDF)
"The Happiness Set Point," by Dan Green
"Resolutions: A New Way," by Sherri Miller
---
Upcoming Events
Check the Huna Calendar for:
April 17, Huna workshop by Serge Kahili King on Big Island at Kalapana
April 30-May 7, Lomi Retreat by Tracey Lakainapali in Australia
May 1, Huna Talk by Serge Kahili King on Big Island and in Second Life
and much more...
---
At The Huna Store:
April Special - Discount on Manifesting Success Course