Aloha Newsletter
May 2008
Aloha Everyone! We hope you enjoy our newsletter, but if you wish to be removed from our list, please reply to this email with"Remove" in the subject line and we will delete your name from our mailing list.
Click here to view this email in your browser
---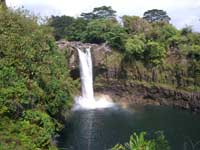 Excerpt from "The Way of the Adventurer," by Serge Kahili King:
"There are four kinds of mana that the shaman seeks to increase in himself or others: first is physical mana (equivalent to what is called bioenergy); next is emotional mana (which can be likened to a state of inner excxitement); then mental mana (best described as high self-confidence); and spiritual mana (which includes self esteem and a deep respect for or sense of connectedness with the object of attention."
---
Kilauea Volcano Watch
Two more small explosions in the main crater, a pool of magma at the base of the plume of smoke, ashy vog that caused some evacuations, and lava still pouring into the sea. No one in danger from the lava at the beginning of May.
---
Aloha International News
Aloha International has announced the opening of a new island in Second Life dedicated to shamanic healing. The name of the island is Holani.

A Fellowship member reports that a friend's dog was missing and neither radio broadcasts, hunting, or calling for the dog, named Pearl, were of any help. Another member suggested that the owner try a technique taught and used by Serge, which consisted of creating a mental path back home for the dog. If Pearl were lost, she could use this path and find her way home. So the owner made a path for Pearlie with the help of her friends. At home she again tried calling and calling, but she only heard dogs barking, and just as she was about to give up, she felt a little nipping at her heels. Pearl had come home.

Pearl had been badly gored by a wild boar, with one hind leg nearly detached. However, she has received hospital treatment, is home, inside, and they hope to be able to stitch her up in a few days.
---
Current Articles on the Web at Huna.org:
"A Destressing Plan" by Serge Kahili King.
"Mother's Management" by Jo Danieli.
"Musical Healing" by Mike Majorowicz.
"The Hidden Knowledge of String Figures" by Lois Stokes.
From the Arhives: "The Story of Pele" by Serge Kahili King.
---
Send your healing requests to huna@huna.org and participate in our world-wide healing work at the Healing Hut.
---
At The Huna Store:
Eye of Kanaloa pendant in 18-karat gold-plated sterling silver.
---
Upcoming Events
Check the Huna Calendar for:
May 12-17, Switzerland, Hawaiian Massage course by Susan Pa'iniu Floyd
May 20-24, Poland, Hawaiian Massage course by Susan Pa'iniu Floyd
May 25-29, Poland, Hawaiian Massage course by Susan Pa'iniu Floyd
and more...
---
Ua kuluma ke kanaka i ke aloha
It is natural for people to behave in a loving way