Aloha Newsletter
May 2009
Aloha Everyone! We hope you enjoy our newsletter, but if you wish to be removed from our list, please reply to this email with"Remove" in the subject line and we will delete your name from our mailing list.
Click here to view this email in your browser
---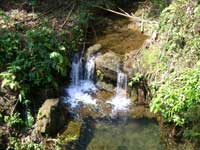 Excerpt from Urban Shaman, by Serge Kahili King: "There are a lot of people living in the world today who aren't even here. Most of their attention is focused on memories of the past, projections into the future, fantasies of alternate worlds, or on themselves. To the degree they diminish their awareness of the present moment during such ruminations, their power and effectiveness in the present also decreases."
---
Hawaii's Kilauea Volcano Watch
Lots of vog on East Hawaii when the trade winds die, and a couple of felt earthquakes with no damage.
---
Making The World A Better Place
The Kyoto Box, a simple solar-powered cooker made out of cardboard boxes, black paint, aluminum foil, and an acrylic cover, costs only $6.60 to make and won a $75,000 first prize from Forum for the Future's climate competition.
Twenty-eight nations have agreed to limit tourism to Antarctica, which is beginning to suffer from global warming.
---
Aloha International News
Alakai Susan Pa'iniu Floyd has just finished teaching Hawaiian massage in Moscow, and is now doing the same in Munich
Second Life: Construction has begun on the George Naope Theater and Hula Museum in Melemele.
---
Current Articles on the Web at Huna.org:
"The Hula Experience," by Serge Kahili King
"Still Being Tested," by Graeme Kupono Urlich
"A Guided Meditation for the Flu," by Jim Fallon
"Change is a Law of Life," by Serge Kahili King
---
Send your healing requests to huna@huna.org and participate in our world-wide healing work at the Healing Hut and at the Global Healing Circles in Second Life.
---
At The Huna Store:
Eye of Kanaloa tatoos for use in healing.
---
Upcoming Events
Check the Huna Calendar for: dd>May 6-29, Germany and Poland, Hawaiian Massage with Susan Pa'iniu Floyd.
May 17, Kalapana, Big Island, Love and Relationships talk with Serge Kahili King.
May 30-31, Maui, The Art and Science of Storytelling with Irv Katz and Serge Kahili King.
and much more...
---
Keke'e ka waha, ua nahu i ka makani
The mouth is twisted after biting the wind
(said of one who has learned that what he said about others is true about himself)