Aloha Newsletter
May 2011
Aloha Everyone! We hope you enjoy our newsletter, but if you wish to be removed from our list, please reply to this email with"Remove" in the subject line and we will delete your name from our mailing list.
Click here to view this email in your browser
---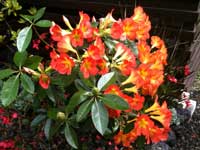 Excerpt from Healing Relationships by Serge Kahili King: "Plans have no special power. They are not sacred in any way. They are pure imagination until human beings act to make them happen, and even then a plan ought never to take precedence over the people carrying it out. People don't fail. Plans fail. And plans can be changed."
---
Making The World A Better Place
Globally: To help the people of Alabama, hardest hit by recent tornadoes, work with American Red Cross, The Salvation Army, University of Alabama, Food for Storm Victims, or Save The Children.
Locally: Surprising uses for beer - a) for coffee or tea stains, douse with beer, blot, and douse again, but test a small area first; b) for small paper fires, grill flare-ups, or engine fires, shake a bottle of beer and aim it at the flames; c) for polishing copper, dampen a cloth with beer and buff.
Online: Join Serge Kahili King on Facebook (add a message) and connect with a lively group of sharing, helpful people;
Send your healing requests to huna@huna.org;
Participate in our global healing work at Huna Village in Second Life.
---
Current Articles on the Web at Huna.org:
"The Discipline of Relaxation," by Serge Kahili King
"Reflections on Expectations," by Stewart Blackburn
"How To Use Healing Wands," by Jim Fallon
---
Upcoming Events
Check the Huna Calendar for:
May 5-9, Kino Mana 3 by Susan Pa'iniu Floyd in Poland
May 17-21 Kino Mana 3 by Susan Pa'iniu Floyd in Poland
May 24-28 A Huna Adventure by Serge Kahili King on Big Island with Polish translation
and much more...
---
At The Huna Store:
May Special - 50% Discount on Polynesian-style Temporary Tatoos