Aloha Newsletter
June 2008
Aloha Everyone! We hope you enjoy our newsletter, but if you wish to be removed from our list, please reply to this email with"Remove" in the subject line and we will delete your name from our mailing list.
Click here to view this email in your browser
---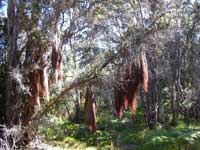 Excerpt from "The Enabling Power," by Serge Kahili King:
"Decide what you want, and expect to get it. What you need most of all is confident expectation, or no doubt in your heart. If words and images help you to clarify what you want, then use them, and if words and images plus strong desire help you achieve confident expectation or remove doubt, then use them for that. The tricky thing is that you can't cheat. You can't just say the right words, and you can't just hold the right images, and you can't just build up a strong desire. The full power doesn't manifest until you have no doubt in your heart. It won't work just by using confidence like a bandaid. The real key is confident expectation, which is the same as no doubt."
---
Kilauea Volcano Watch
A more settled pattern of continuing venting of gas at the summit and at the lower Pu'u 'O'o crater, and continuing flows through lava tubes into the sea.
---
Aloha International News
Here is part of what one Fellowship member does to make the world a better place: "I spread my smiling and shining together with positive thoughts among all the people I meet. It is a great feeling (especially in a crowded underground or at work, when everybody is in a hurry an deeply stressed)! I really like it and I enjoy the increasing number of positive feedbacks as well."

The latest addition to Holani Island in Second Life is a full-scale model of a "marae," a kind of religious and social center used by the Maori people of New Zealand (see pics at Virtual Island Snapshots).
---
Current Articles on the Web at Huna.org:
"A Destressing Plan" by Serge Kahili King.
"Mother's Management" by Jo Danieli.
"Musical Healing" by Mike Majorowicz.
"The Hidden Knowledge of String Figures" by Lois Stokes.
From the Arhives: "The Story of Pele" by Serge Kahili King.
---
To help make the world a better place, check out http://www.loveandforgive.org/ and http://www.cnn/impact.
Send your healing requests to huna@huna.org and participate in our world-wide healing work at the Healing Hut.
---
At The Huna Store:
A Clearance Sale of VHS videos and audio cassette bundles by Serge Kahili King for only US$10.00 each.
---
Upcoming Events
Check the Huna Calendar for:
June 8-12, Germany, Hawaiian Massage course by Susan Pa'iniu Floyd
July 6, Hawaii and Second Life, Huna Talk by Serge Kahili King
July 7-11, Poland, Hawaiian Massage course by Susan Pa'iniu Floyd
July 14-18, Hawaii, Hawaiian Shaman Practice with Serge Kahili King and Susan Pa'iniu Floyd
and more...
---
He pua no ka wekiu
A blossom on the topmost branch (Praise of an outstanding person)