Aloha Newsletter
June 2009
Aloha Everyone! We hope you enjoy our newsletter, but if you wish to be removed from our list, please reply to this email with"Remove" in the subject line and we will delete your name from our mailing list.
Click here to view this email in your browser
---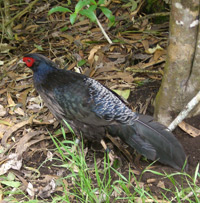 Excerpt from "The Meaning of Life," by Serge Kahili King: "It only takes a little observation to realize that life is a process of change and growth, adaptation and renewal, healing and learning, creativity and transformation. When the process of life is expressing itself freely the subjective experience is one of physical, emotional, mental, and/or spiritual pleasure in varying degrees. If you strongly resist any part of the process of life, you will experience varying degrees of physical, emotional, mental, and/or spiritual pain."
---
Hawaii's Kilauea Volcano Watch
Overnight, glow from the Halema'uma'u vent continues to be bright. Lava from east rift zone vents flows through tubes to the coast and is entering the ocean at two locations west of Kalapana; active surface flows continue on the upper pali (cliffs). Sulfur dioxide emission rates from the Halema'uma'u and Pu'u 'O'o vents remain elevated.
---
Making The World A Better Place
Some of the world's most gifted songwriters cleared their schedules for a weeklong songwriter's retreat, where 100 percent of the song royalties from CompassionArt goes to the work of supporting the poorest of poor around the world.
Doctors Without Borders gives medical care to people facing violence, epidemics, malnutrition and natural disasters in 60 countries (www.doctorswithoutborders.org).
---
Aloha International News
Serge Kahili King (screen name kanaloa7) now has 22 teaching videos available on YouTube. Alakai Susan Pa'iniu Floyd is winding up a tour teaching Huna, hula, and massage in Russia, Poland, and Germany.
Second Life: Global Healing Circles are happening on Wednesdays and Saturdays, and Prosperity Circles happen on Tuesdays.
---
Current Articles on the Web at Huna.org:
"The Hula Experience," by Serge Kahili King
"Still Being Tested," by Graeme Kupono Urlich
"A Guided Meditation for the Flu," by Jim Fallon
"Change is a Law of Life," by Serge Kahili King
---
Send your healing requests to huna@huna.org and participate in our world-wide healing work at the Healing Hut and at the Global Healing Circles in Second Life.
---
At The Huna Store:
A solid silver lightning bolt pendant, symbol of personal mana.
---
Upcoming Events
Check the Huna Calendar for: dd>June 10, Second Life, Huna and Relationships class with Serge Kahili King.
July 5, Volcano, Big Island, Huna and Healing class with Serge Kahili King.
July 13-17, Big Island, Hawaiian Shaman Practice with Serge Kahili King and Susan Pa'iniu Floyd.
and much more...
---
Ka hana a ka makua, o ka hana no ia a keiki
What parents do, children will do