Aloha Newsletter
June 2011
Aloha Everyone! We hope you enjoy our newsletter, but if you wish to be removed from our list, please reply to this email with"Remove" in the subject line and we will delete your name from our mailing list.
Click here to view this email in your browser
---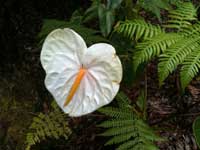 Excerpt from "On Love" by Serge Kahili King: "There is a great secret to loving others and being loved in return. It is to love yourself first. Unless there is already water in the tap, nothing will come out when you try to turn it on. Unless you have learned to accept and give to yourself, you will have great difficulty in doing the same for anyone else. Accepting yourself means acknowledging all your good and bad qualities and realizing this is the material you have to work with, then making the decision to go ahead and work with it."
---
Making The World A Better Place
Globally: Send prayers and blessings to the survivors of the tornado in Joplin, Missouri USA, and money to helping organizations rather than goods.
Locally: Some natural bug repellants made from plant oils are citronella, lemongrass, peppermint, cedarwood, clove, and eucalyptus.
Online:
Announcing the launch of the Aloha International Huna Forum at www.alohainternational.org/forum thanks to Brian Higgins and Peter Dalton.
Join Serge Kahili King on Facebook (add a message) and connect with a lively group of sharing, helpful people;
Send your healing requests to huna@huna.org;
Participate in our global healing work at Huna Village in Second Life.
---
Current Articles on the Web at Huna.org:
"The Discipline of Relaxation," by Serge Kahili King
"Reflections on Expectations," by Stewart Blackburn
"How To Use Healing Wands," by Jim Fallon
---
Upcoming Events
Check the Huna Calendar for:
June 3-5, Hawaii Festival with Susan Pa'iniu Floyd and others in Germany
June 14-18, Kino Mana by Susan Pa'iniu Floyd in Hamburg, Germany
July 1-8, "The Way of Pleasure" workshop by Stewart Blackburn on Big Island
and much more...
---
At The Huna Store:
June Special - Major price reductions on all Home Study Courses