Aloha Newsletter
August 2009
Aloha Everyone! We hope you enjoy our newsletter, but if you wish to be removed from our list, please reply to this email with"Remove" in the subject line and we will delete your name from our mailing list.
Click here to view this email in your browser
---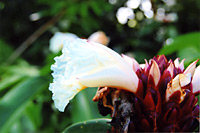 Excerpt from Huna: Ancient Secrets for Modern Living by Serge Kahili King: "Criticisms of yourself and others cause your body to tense, and compliments to yourself and others cause your body to relax. Curses cause stress, blessings reduce it. Using blessings alone can improve your health tremendously, and sometimes that's all that's needed... You can bless your way to success in many ways."
---
Hawaii's Kilauea Volcano Watch
A "deflation event" has made the lava disappear from Halema'umau and Pu'u 'O'o Craters, but there is still one ocean entry that is very active.
---
Making The World A Better Place
XSProject started as an artist's expression against the impact of consumerism on the environment. It evolved into a foundation which uses design & education to clean up the environment and help Indonesia's poor. See xsprojectgroup.com.
Outreach International works with the world's poor to help them build better lives for themselves. Their mission is simple: help the poor help themselves. See www.outreach-international.org.
---
Aloha International News
With the ordination of two new Alakai in August, we now have over fifty of these special leaders and teachers in North and South America, Europe, Asia, and Africa.
Second Life: A beautiful and entertaining video featuring the Huna Principles has been made in Second Life by Avatar Elizabeth Spieler. See it on YouTube here.
---
Current Articles on the Web at Huna.org:
"A Different Point of View," by Serge Kahili King
"Dream Skills," by Brian Higgins
"Kamehameha: King of War and Peace," by Serge Kahili King
---
Send your healing requests to huna@huna.org and participate in our world-wide healing work at the Healing Hut and at the Global Healing Circles in Second Life.
---
At The Huna Store:
A new organization of the site, making it easier to find what you want.
---
Upcoming Events
Check the Huna Calendar for:
August 16, Big Island, Huna and Prosperity with Serge Kahili King.
September 6-11, Big Island, Hunaquest with Serge Kahili King.
September 17-Dec. 10, Online, Urban Shaman with Katherine Veilleux.
and much more...
---
'A'a i ka hula, waiho ka hilahila i ka hale
When dancing the hula, leave bashfulness at home