Aloha Newsletter
July 2011
Aloha Everyone! We hope you enjoy our newsletter, but if you wish to be removed from our list, please reply to this email with"Remove" in the subject line and we will delete your name from our mailing list.
Click here to view this email in your browser
---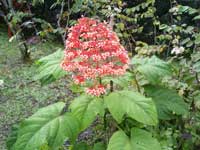 Excerpt from "Our Destiny" by Serge Kahili King: "'Destiny' is a word greatly misunderstood and misused. Even good dictionaries describe it as something that is going to happen that you cannot do anything about. However, "destiny" and "destination" both come from the same Latin word meaning "the intending of something for a particular purpose." In other words, destiny is based on intention."
---
Making The World A Better Place
Globally: Check out MercyCorps (http://www.mercycorps.org/) for a variety of ways to help people in need around the world.
Locally: A green way to clean cooked-on food from pots, pans, and casseroles is to scrub it off with a balled up piece of aluminum foil and wipe clean with a soft, dry cloth. For non-cast iron ware add a little soap and water.
Online:
Join Serge Kahili King on Facebook (add a message) and connect with a lively group of sharing, helpful people;
Participate in our Online Healing Circle at http://www.huna.org/html/hcircle.html.
Send your healing requests to huna@huna.org;
Participate in our global healing work at Huna Village in Second Life.
---
Current Articles on the Web at Huna.org:
"The Surfing Solution," by Serge Kahili King
"Huna and Sustainability," by Stewart Blackburn
"The Pendulum as a Tool for Change," by Jim Fallon
---
Upcoming Events
Check the Huna Calendar for:
August 8-12, Advanced Shaman Healing by Serge Kahili King with German translation on Big Island
August 8-12, Hawaiian Bodywork by Susan Pa'iniu Floyd in Japan
August 20-28, Lomilomi Training by Tracey Ha'aolakainapali in Italy
and much more...
---
At The Huna Store:
August Special - Discounts on storytelling DVDs by Serge Kahili King