Aloha Newsletter
Sepember 2007
Aloha Everyone! We hope you enjoy our newsletter, but if you wish to be removed from our list, please reply to this email with"Remove" in the subject line and we will delete your name from our mailing list.
Click here to view this email in your browser
---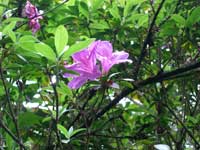 Excerpt from "Healing For The Millions," by Serge Kahili King:
"The world needs healing because people need healing. We cannot heal the world because 'the world' is nothing but an abstract concept used to represent the billions of people and other things that make up the world... We can change the world by changing people, or better, by giving people the tools to change themselves."
---
Aloha International News
On September 2nd, Aloha International presented its first Talk Story in the virtual world of Second Life, featuring Serge Kahili King.
It was night time in Huna Village when the avatars began arriving for the first ever talk story session in the village Conference Center. Some came up the ramps and some flew in the doorways of the rather large, Polynesian-style building situated on a point overlooking the sea.
A few came early to find seats in the koa benches, but Serge Kahili King was there to greet most of those who came. He stood in front by a replica of the Joseph Parker painting of Lemuria that hung for so many years in the Real Life Hawaiian Art Museum on Kauai. This day he was wearing a new Hawaiian shirt that he had created with black trousers and sandals. His hair and beard were white.
The gathering began with introductions, and there were avatars from Japan, England, Switzerland, New Zealand, Vermont, Kauai, and Big Island.
Most of the questions had to do with how to do things in Second Life and Serge taught a lot specific tips and techniques. Most of the communication was by live voice chat, but there was a lot of type chat also.
After the talk the Huna Fellowship members gathered informally around the tiki bar in their clubhouse at Melemele and finished with a circle and the "Aumakua" chant.
A new feature in the virtual Healing Hut is a box where avatars can drop off healing requests.
---
Current Articles on the Web at Huna.org:
"Self Mastery'" by Serge Kahili King
"Snaring Time & Space," by Lois Stokes
"Identity Management," by Stewart Blackburn
"Perfect Timing," by Susan Pa'iniu Floyd
---
In Real Life, send your healing requests to huna@huna.org.
Participate in our world-wide healing work at the Healing Hut.
---
At The Huna Store:
A wide variety of Home Study Courses.
---
Upcoming Events
Check the Huna Calendar for:
September 9-14 Hunaquest with Serge Kahili King and Fern Merle-Jones on the Big Island
September 13-December 7 Urban Shaman Course Online with Katherine Veilleux
September 26-30 Hawaiian Massage with Susan Pa'iniu Floyd in Zurich, Switzerland
and more...
---
Keke'e ka mai'a o ka 'e'a, wili ka 'oka'i
Even a twisted banana tree in the mountains can bear fruit