Jesse Kostin moved on from this life in February 2008. He was one of the earliest members of Aloha International and served for a time on the Board of Directors. Jesse was very active in all the activites of Aloha International for a great many years, participating in classes, courses, Makahiki Festivals, and joining our group trips to Hawaii and Bora Bora. He moved to Kauai shortly after Aloha International relocated there and continued to participate until his later years, when he decided to follow his natural inclination toward a more mystical life.
Everyone who knew him enjoyed his humor, his insightful mind, and his friendship. We bless his journey wherever it may lead.
The following photos of Jesse with friends were taken during an Aloha International outing in Southern California in 1981.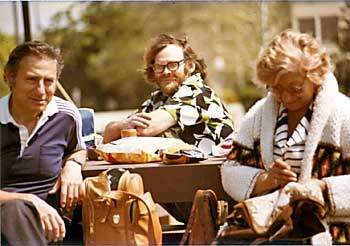 Jesse (on the left) with Larry Williamson and Joyce King.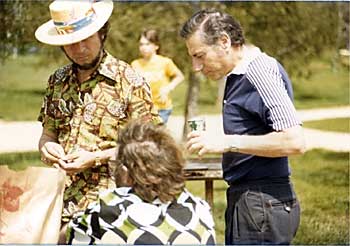 Jesse with Larry and Serge.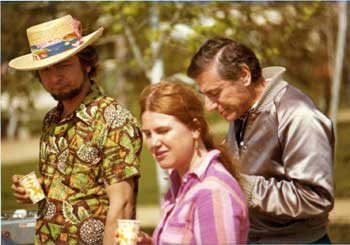 Jesse with Helen Williamson and Serge.
At one time the "Aloha Newsletter" was called the "HunaGram."
The Fall 1985 Huna Gram states:
"We'd like you to share your experiences and accomplishments gained through the practice of HUNA with your fellow members."
In that issue Jesse submitted the following statement:
"EFFECTS ON MY LIFE THROUGH THE STUDY AND PRACTICE OF HUNA
I have been a HUNA student for eight years. The best way to share the changes which have and continue to occur for me is to show them to you in this chart:
DOUBT is replaced by
CONFIDENCE
ANGER by
ASSERTIVENESS
JUDGMENT by
UNDERSTANDING
FEAR by
LOVE
ISOLATION by
FRIENDLINESS
SUPPRESSION by
EXPRESSION
LAZINESS by
EFFECTIVENESS
EMPTINESS by
PURPOSE
CONTENTMENT by
ADVENTUROUSNESS
AIMLESSNESS by
CREATIVITY
LIMITEDNESS by
CONNECTEDNESS
WORRY by
OPTIMISM
CRITICISM by
NONJUDGEMENT
NARROWNESS by
AWARENESS
ABSENTMINDEDNESS by
NOWNESS
ENVY by
THANKFULNESS
NEGATIVITY by
PRAISE
CAPITULATION by
PERSISTENCE
PASSIVITY by
SELF MOTIVATION
STUBBORNNESS by
OPENNESS
CONDEMNATION by
PREFERENCE
BOREDOM by
HAPPINESS
GUILT by
FREEDOM
SEPARATENESS by
ONENESS
Aloha,
Jesse Kostin"