Article
---
A Nature Outing with Archangel Susan
or Still Another Susan Adventure!
by Jim Uttleymoore
It was Monday November 24th, 2003, the first day of Aloha International's Makahiki Conference on Kauai, and our Aussie group started out with an early morning call at 5.30 am. By 6.15 we were on the beach at Lydgate Park to herald up the sun by chanting and dancing. It was great to be with Susan again, living for the moment. It was the first morning for more than a week that was clear enough to see the sun rise from the ocean. It was a perfect start to a perfect day.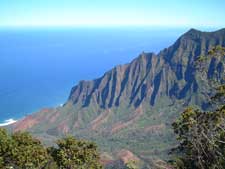 We breakfasted at Kalaheo coffee shop, then travelled by convoy to Kalalau Valley Lookout, high in the mountains of Kokee. The view took our breath away. The morning sun was streaming down the valley creating multiple shades of green. The sea an emerald blue melting into puffs of white clouds on a pale blue background. I felt at that moment my Ku imprint my heart with that vista for life. My Lono was running rampant, imaging all sorts of things from mighty Chiefs ruling this magnificent landscape to searching for an ancient pathway down to the valley floor. Lono wanted freedom and was pressing all my buttons. Then before we knew it, Susan had us over the edge and down. As we slipped, slid, scrambled and helped each other to stay on our feet I was very aware of the total harmony within the group of eleven. There was always a hand right where it was needed and it was as if everyone had left their heads back at the lookout. The seven principles were guiding us all without even thinking about it. Some were challenged, but no one quit. Adrenaline ran hot and so did the focus. The journey stretched for more than two hours, but all were empowered. Everyone looked after the person in front and the one behind, love was in the air.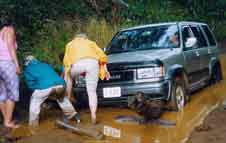 After a hearty lunch at Kokee Lodge, we set out again in convoy to select the most suitable flowers and shrubs to decorate Lydgate Park. Susan was the lead vehicle. At our first stop we frolicked along the trail finding beautiful and fragrant nature gems, including the superb Kahili Ginger. Back in the cars it was apparent to all but Susan that the road had deteriorated with large pools of rain water and deep pot holes. Undeterred she forged on and we followed. Fern in the meantime watched with caution as our 4-wheel drive half disappeared in lakes of pooled water and decided with Lois and Earl's judgment that they were not going any farther. Susan, on the other hand, was on a mission as both cars plowed on carrying 10 totally optimistic passengers enjoying every single moment. Then it happened, as if in slow motion. Susan attempted to cross a large stretch of water with deep unseen ruts.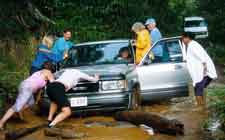 At that point her journey in her beloved "2 4 Joy" was halted as the front differential marooned itself high on a bank of mud. Following close behind, Murray and I immediately surveyed the situation. Firstly we could see from our vehicle that the water was up to the doors. Secondly, the exhaust was bubbling away well under the water and thirdly, there was no tow rope, shovel, buckets or tools. A closer inspection confirmed that the front drivers side wheel and the rear passenger side wheel although under water, had no chance of creating any traction either forward or reverse. In true Hawaiian spirit everyone panicked (no, I'm kidding!). All were calm, many suggestions were put forward, none were criticized and all were tried. The group were amazingly positive, although nothing that was attempted succeeded in moving the vehicle.
The afternoon was marching on and "2 4 Joy" was stuck hard. A quick consensus decided that we would try two things together. One was to bail as much water as possible, the other was to try and jack the vehicle up and chock the wheels then repeat the procedure.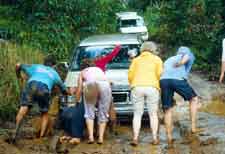 With much joy and laughter the team went into action. Some in their enthusiasm slipped and fell into the mud. Others carted logs for chocking the wheels and at least one was soaked by a renegade cup of dirty water. With only a kitchen wastebasket and a cup to bail with it was slow going.Then out of the blue a machete was produced and a channel was cut into the roadway to release some of the water. Murray and I worked to jack the vehicle, chock the wheels then re-jack and chock. Forty-five minutes later we had "2 4 Joy" reasonably level and all 4 wheels were able to create traction. Everyone was called to their positions. Susan was to reverse straight back with no hands on the steering wheel so the vehicle could find its own way out of the bog. The rest was to push like never before.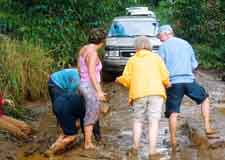 The word was given and "2 4 joy" leapt from its watery grave while at least two of the pushers went headfirst into the mud. There was great elation by all. We had achieved our task in less than two and a half hours using only our wits, teamwork and the meager tools at hand.
On our return to journey from Kokee to Waimea one of our Aussie crew asked, "Was that the normal format for the first Makahaki day?" We all replied, "Why don't you check the schedule?" We laughed with tears of joy as it stated and I quote, "Monday November 24th. Nature Outing led by Susan Floyd. Conference participants will have the chance to relax and be recharged in the beauty of nature, while experiencing a spiritual and physical journey." These words were so true, we were relaxed, recharged in nature and did experience a spiritual and physical journey.
Huna is alive in us all. The mountain worked its magic, allowing us to play with no fear, just a sense of beauty in life's adventure.