Inspiration
---
Peace is Prevailing
by Tatomir Ion-Marius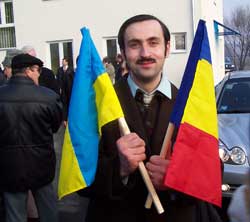 15 January 2007
The event: The inauguration of the bridge which ties Ukraine with Romania, between Solotvino and Sighetu Marmatiei. Both presidents participated - Viktor Juschenko of Ukraine and Traian Basescu of Romania.
In the early morning, at 8.30 a.m., I was present at the bridge, where several forces of police and gendarmerie were assuring order and security. I had many acquaintances among the press and local representatives.
I was wearing a button on which was written: May Peace Prevail on Earth!
Those who wished to cross the bridge and to go until the point of border control at Solotvino were invited to decide quickly if they wanted to cross, because it would later be impossible until the end of the inauguration.
I crossed, together with the press, TV, and other people representing diverse areas of public life. We passed through the metal detectors and I was on Ukrainian land! There, before the point of control of Solotvino, a quiet great crowd was waiting for the presidents.
I was asked by some representatives of the Ukrainian press how to write correctly the name of the Romanian president and I helped them. I saw some very beautiful lady journalists there. I met the president of the Union of the Ukrainians from Romania, exchanged a few words with him and shook hands. I met a bishop and asked for his blessing. I made the acquaintance of two TV cameramen. I received from someone two flags, one Romanian and one Ukrainian. I was raising and waving the flags.
Finally, the presidents arrived. We listened respectfully, first to the Romanian and then the Ukrainian anthems. The presidents and other officials made speeches. At the end of the speeches, the presidents went through the crowd onto the bridge to cut the official cord. I was at their back, with the people assuring the security of the two presidents.
I was filmed by some TV stations, and saw myself on PRO TV (reknowned Romanian TV channel which shows nationally), holding in my hands the two flags. Other people said they saw me on Prima TV, too (another national Romanian TV channel).
After they cut the official cord, I was fortunate to shake hands with both presidents, Viktor Jushchenko and Traian Basescu, then they went with their official column to the City Hall.
After the inauguration of the bridge, I went back to my workplace. It was an historic event, and I was glad I participated.
Long live the Romanian-Ukrainian friendship!
May Peace Prevail in Ukraine!
May Peace Prevail in Romania!
May Peace Prevail on Earth!