Aloha Newsletter
January 2007
Aloha Everyone! We hope you enjoy our newsletter, but if you wish to be removed from our list, please reply to this email with"Remove" in the subject line and we will delete your namefrom our mailing list.
Click here to view this email in your browser
---
"It is one thing to understand with your intellect that you are the source of your experience. It is quite another thing to take a close look at your life and say, 'Whoops! Look what I did!' This is a pretty hard idea to accept, especially in a society which tends to promote the idea that life is something that happens to you. But successful people are those who do have the willingness to accept that they happen to life, not the other way around." - excerpt by Serge Kahili King from "Imagineering For Health," Hunaworks Publishing, 2006.
---
Aloha International News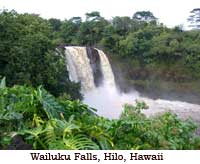 Aloha International on the Big Island is getting closely involved with the Volcano community and already has volunteers working with Hawaiian cultural activities at Hawaii Volcanoes National Park. The staff is also planning locations for upcoming courses and intends to restart Talk Story sessions in March. Aloha International Kauai is continuing its Hula classes and also has a Huna Circle for healing. Go to Island Events for more information.
---
New letters and world Huna happenings, new poetry, new inspirations, and new photos, along with participation in our world-wide Healing Circle are in the Sharing Hut.
---
Current Articles on the Web
Go to The Hawaiian Huna Village for links to:
"Christmas At Volcano" by Serge Kahili King
"The Identity Imperative" by Serge Kahili King
"A Really Bad Night," by Cristina Bar-Sella
"Dynamind and Healing Relationships," by Jim Fallon
---
Upcoming Events
Check the Huna Calendar for:
"So You Want To Be A Healer," an online course by Katherine Veilleux that starts in February;
"Hunaquest" with Fern Merle-Jones and Serge Kahili King in April.
and more...
---
He kawa ia na'u i lele a 'opu
Do not pluck the 'ohelo berries lest we be surrounded by rain and fog
That is a diving place into which I dived without making a splash (Said of something that is easy to do because one is used to doing it)