Article
---
The Best Makahiki Ever
by Fern Merle-Jones
with photos by Rainbow Photography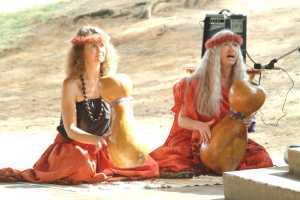 As 2003 draws to a close, we look back on the year and see the completion of projects, as well as the continuation and challenges of goals which we are still striving for both personally and for the World. Dreams of Nations reaching harmony, of families healing physical and emotional difficulties and of personal achievements that will meet or even surpass our highest expectations. Here is one experience that did indeed fulfill our highest goals: Makahiki, 2003.
Our highest goal for this year's Thanksgiving Celebration was that everyone would truly celebrate and enjoy themselves - the organizers would have as much fun as the participants and that in fact there would be little difference between the people putting on the event and the people coming as guests. Our goal was that we would all share in producing a most satisfying, fun-filled and stress free event!
Being wedding coordinators by profession, my husband Michael and I are well versed in planning and executing larger parties. Over the last ten years, it has been natural for us to assist in the planning and presentation of Makahiki. In addition, as co-leader of the Hula Halau, which has offered major entertainment to the Makahiki for the past 5 years, my personal involvement has taken on a new level of commitment and intensity.
Our Makahiki Thanksgiving has been so very successful that each year has seen an ever-increasing number of attendees. Although we have tried to predict numbers, we have been amazed at the number of "happy-faced strangers" who have arrived bearing their offerings to add to our over-stuffed table of potluck platters, plates, and bowls. We "guesstimated" about 200 people in 2002. Although a huge success, last year's Makahiki left the organizers exhausted, depleted and wondering, "What was Makahiki all about and who was it serving?"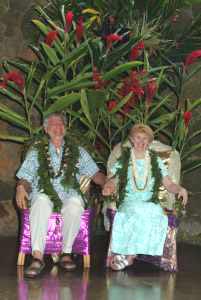 We were determined to create a new and different experience for Makahiki 2003. This year marks the 30th anniversary of Aloha International. We really wanted to honor Serge and Gloria and to give them a fun-filled day. We especially wanted to ease the strain on Gloria, who normally takes responsibility for arranging and setting up all of those bowls of food and overseeing the food distribution and clean-up. We fantasized about creating 2 thrones for the Kings to actually sit in and enjoy the entertainment. Could we really get them so relaxed that they would sit down and allow themselves to be served?
The first and probably most dramatic change was to have the Makahiki luau catered and to sell tickets to the meal. This would allow us to know how many people were coming to eat, to plan for this amount and to feel confident about the food. We offered 100 tickets and they were all sold! The presentation and cleanup were all included and taken care of by our wonderful caterer Sandy who provided a most wonderful Thanksgiving Feast.
The space itself, Lydgate Pavillion at Lydgate Beach Park, was another decision which we made based on convenience and past experience. Last year we had our Makahiki at beautiful Kahuna Springs where we hold the week-long Makahiki Shaman Conference. It offered us a level of beauty and privacy that was so special and will always be remembered. However, the additional costs for tents and porta-potties added to an afternoon of heavy rains with cars stuck in mud, etc., etc. made us rethink this location in the light ofthis year's goals of "relaxation and non stress". So we took a step back into the Lydgate location where we had many previous Makahiki Luaus but with a new determination to make it work "better than ever."
During the week of Makahiki, Aloha International presents a week-long conference of seminars, mini workshops, hikes, etc. led by Susan Floyd. The week is open to students and colleagues who come from all over the globe to join with us. This year we saw participants from Australia, Switzerland, The Netherlands, Oregon, Japan and Kauai. In keeping with our integrated goals for involving everyone and sharing the "fun", we coordinated the courses of the week in such a way that the activities worked together culminating (although not concluding) with the Makahiki Luau Celebration. On Monday we began the conference, with a Kokee adventure and hike (a whole other story in itself) While up in Kokee, we picked greenery and flowers that we used later in the week in the Lei-making workshop on Wednesday to make leis for Serge and Gloria, in addition to creating beautiful table decorations to adorn Lydgate for the Makahiki luau the next day. We also created and decorated the "Thrones for the Kings". Susan taught the Hula workshop participants a dance which would be the final presentation of the Luau entertainment!
By Thursday, Makahiki morning, we had so much support and enthusiasm that the set-up went just beautifully. Michael created a stage centerpiece that was magnificent, as usual, in addition to supporting the entire set-up. Nature also cooperated fabulously, providing us with the most mild and lovely day that we had seen in weeks.
We began the actual festivities with the traditional Makahiki opening blessing by Serge at the Heiau at Lydgate Park, Hikina A Ka La (a temple site whose name recognizes the Rising Sun in the East). This was followed by each participant being led in making a personal lei of ti leaf. Hawaiian games and activities followed, including spear throwing, coconut rolling and hula hooping!
Just before feasting, Susan led a special toast to the Anniversary of Aloha International. The thrones were revealed for Serge and Gloria - boy, were they surprised! - but not as surprised as when they sat in their thrones and they were told to close their eyes, relax and FLY! Suddenly without their knowledge, they were lifted into the air by their students!! It was great fun to surprise them with their own Huna exercise!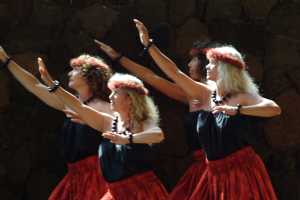 In terms of our Hula Halau and its preparation for our annual dance presentation - we were also faced with challenges and decisions that would change the format of our performance. Rather than perform our dances as one whole piece as we had done in the past, we decided that in keeping with the desire for a more inclusive and stress-free experience, we would separate the dancing in such a way that would allow the performers to eat with their families and to take a more active part in the festivities as a whole rather than just in the Hula. The Kahiko portion of the dancing was presented before lunch just after our presentation of the thrones and special leis (remember - the ones that we made during the lei workshop). Three traditional Kahiko dances were chosen that had been taught to us this year by Kumu Kawaikapuokalani Hewitt as they had been taught to him in his youth. Two of the dances were particularly challenging as they are danced in an ancient style that mirrors each verse by repeating it in the opposite direction! The Hula students worked very hard to perfect these and all their dances - the results were quite impressive!!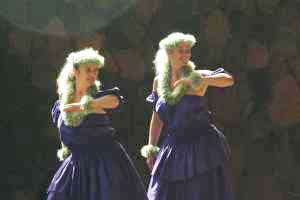 After the Kahiko portion, the lunch luau was served and during lunch Jeane and Fern performed a beautiful synchronized Hula about the Chiefess La`ieikawai.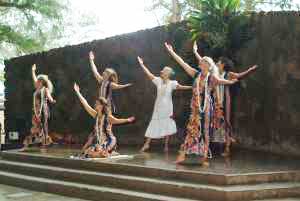 The Auwana, modern Hula, followed lunch with 5 beautiful songs or mele written by Kawaikapuokalani, culminating in the dance which we taught in the Hula workshop performed by our Halau members as well as conference participants. Many thanks to our teachers - to Susan for her beautiful chanting & dancing, her guidance and vision, and of course to Kumu Kawaikapuokalani Hewitt for his compositions and teaching which continue to inspire us to greater levels of appreciation of Hawaiian history, culture and dance.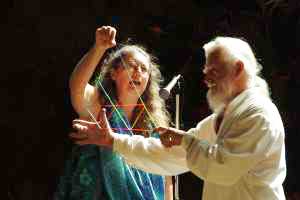 I want to take a moment to thank all of the other entertainers and special helpers who gave their energy and shared their talent to make this such a memorable day. First of all, Paul Waters for his lively hosting, entertaining in and of itself!! Matt Miller started the day by serenading us with beautiful guitar music. GG Shanley and her lovely flute were so expressive. Barbara Swettina from Findhorn (in Scotland) entertained for the first Makahiki presentation of accordian. Thank you Helen for the jig. We will long remember Earl and Lois Stokes sharing String Figures (Kau Hale a Lima Loa) on center stage! Let's not forget to mention the incredible raffle with the best prizes ever. Thank you again Earl and Lois for all your hard work and for fielding all phone messages during Makahiki week. Our visiting Alakai were such a great help - Jim and Roz with your incredible group from Australia - you guys made all that hard work such fun! Thank you Petra and Dom who stepped in to fill in with any needed help, Luellen for handling the door. Of course we will always know that although they allowed themselves to be served and did take their special seats for every performance, Serge and Gloria were still the center of it all!! We most deeply appreciate all that you give of yourselves at Makahiki and all yearlong.
If I have forgotten to acknowledge anyone, please know that each and every person was a part of making this so successful and we are grateful. The changes which we made to the Makahiki format all came together on that day for a most satisfying and enjoyable experience. At the end of the day, we were amazed at how easy it had all gone. And so easy to clean up as well!
There were many lessons learned, lessons about trust, about flexibility, challenge and focus. One thing that keeps coming up for me is a statement that I have heard Serge repeat many times and in many different circumstances:
"If you want to have Change, you must be willing to Change"
Makahiki 2003 - the best Makahiki ever, because we were willing to take the chance and to change!
Happy New Year, Everyone! May we all find the places that need change in our lives and move into 2004 with the determination to make those changes with confidence and with love.