Activity
---
HUNA TEACHER TRAINING
Register Now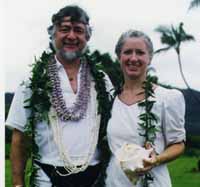 The focus of this course is on training people how to teach Huna, using the skills and techniques developed by Serge Kahili King in giving lectures and presenting workshops all over the world.
Students will learn how to overcome stage fright, how to increase their charisma and confidence, how to organize their presentations, how to use audio-visual aids, how to move and dress to make the best impression, how to use a microphone, and many other highly useful skills.
An especially valuable aspect of the course is that the students will be videotaped every day to measure their progress as they incorporate the teaching techniques, and they will each receive their personal tape at the end of the course as part of the course materials. The course will be taught by Serge Kahili King and Susan Pa'iniu Floyd.
Course Content
Principles of Teaching
Teaching of Principles
King's Multifunctional Teaching Model
Timing Tricks
The Logistics of Teaching
Teaching as a Business
Course Schedule:

Arrival Days - Saturday/Sunday

On Sunday morning there is an option to attend a Huna talk at our museum in Princeville. On Sunday evening (7 pm) there will be an orientation meeting at Kahuna Springs.

Monday, Tuesday, Thursday

Optional Sunrise Ritual
9am-12pm training with Serge
2-5pm training with Susan

Wednesday, Friday

Optional Sunrise Ritual
9am-12pm training with Serge and Susan
Afternoon free (optional excursion with Susan on Wednesday)
Evening graduation luau
Tuition fee: $1500.00, which includes the teaching, materials, and a graduation luau.
60-day advance payment discount: $100.00
Deposit to hold space: $250.00
Non-residential student use fee: $100.00 (for students who will not be staying at the training location - see below), includes 5 lunches (optional) and use of the grounds.
The training will be held at Kahuna Springs, a beautiful, 25-acre property with comfortable cottages, swimming pool and tropical landscaping, surrounded by the majestic mountains of Kaua'i and only 10 minutes to Kapaa and the beaches by car. All rooms come with cooking facilities, phone, TV and use of laundry equipment. This is what a tranquil, Pacific paradise is supposed to be like.
Lodging reservations must be made through Aloha International. Accommodations are for seven nights (check-in Saturday, check-out Saturday), and include breakfast and lunch for five days, and use of the grounds.
Single occupancy fee: $700.00 per person
Double occupancy fee: $450.00 per person
For any questions use the contact information below.