Aloha Newsletter
Aloha Everyone! It's been a long while since we've sent out a newsletter, so we hope you are still interested. If you re not, to be removed from our list, please reply to this email with "Remove" in the subject line and we will delete your name from our mailing list.
view this email in your browser
---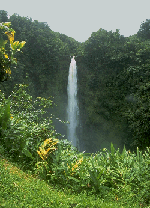 "In nature we see abundant examples of rocks, plants and animals following the path of least resistance. We find it in humans, also, alongside what seems to be the practice of following the path of most resistance. However, the path of least resistance may be so glaringly obvious that it takes a radical shift in attitude to recognize it.
A blade of grass apparently has the power to break through a slab of concrete, yet it clearly doesn't have the strength to accomplish this feat. But perhaps it isn't breaking through the concrete at all. Perhaps, using the principle that energy flows where attention goes, it is focusing all of its attention on reaching the sun, and it is ignoring the concrete completely. Perhaps, in the face of such a love, the concrete simply parts to let it through. And perhaps this same idea might be applied to our human lives. That is to say, perhaps the path of least resistance is the path of love. If this is so, then perhaps there is greater power and higher purpose in keeping our attention on what we want, and not on what we don't want; less on what we hate and fear, and far more on what we perceive as the highest good." - excerpt from Huna Secrets of Success (soon to be published in English), by Serge Kahili King.
---
New letters and world Huna happenings, new poetry, new inspirations, and new photos, along with participation in our world-wide Healing Circle are in the Sharing Hut.
---
New Articles on the Web
Human Cycles, by Serge Kahili King
Welcome Home To The Land Of Mu, by Lois Stokes
There's Always Another Way, by Susan Pa'iniu Floyd
---
Upcoming Events
Check the Huna Calendar for:
August 7-18, Beginning and Advanced Kino Mana on Big Island with Susan Pa'iniu Floyd
September 3, Huna Basics on Kauai with Fern Merle-Jones
September 3-8, Hunaquest on Kauai with Fern and Serge Kahili King
September 23-24, Healing Relationships in Vermont with Serge Kahili King
and more...
---
He nani wale no o Puna mai ' a 'o
There is only beauty from one end of Puna to the other
(There is nothing to complain about)