Activity
---
HULA INTENSIVE
With Kumu Hula Kawaikapuokalani Hewett
Sponsored by Aloha International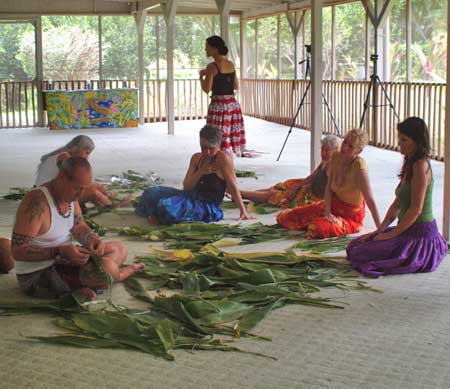 Kumu Hula Kawaikapuokalani Hewett teaching Hula Intensive
students to make a ti leaf skirt
Since December 1999, Aloha International has gathered Hula lovers from opposite ends of the world on the islands of Hawaii for five days of study and practice of the ancient art of Hula (Hawaiian dance) under the direction of master dancer/chanter/singer Kumu Hula Kawaikapuokalani Hewett. Each program is a course unto itself and does not require previous instruction in Hula to attend. The program is intensive, however, and there will be up to 6 hours per day of Hula dance instruction and associated Hula Arts such as chanting, language, lei making, mythology and spirituality.
It's a good idea to bring a notebook. Tape recorders are encouraged. Kumu Hewett suggests that we be like "little children" and allow our minds and bodies to be open to learning through following and repetition.
Be aware that it can sometimes rain, gets cool at night and could get muddy at times. Towels, sheets, and blankets are provided but not other toiletries so bring soap, shampoo, sunscreen, insect repellent, etc. A sarong with T shirt is fine for dancing. If you already have a pa'u skirt. At night you may need slacks and a sweater.
KUMU KAWAIKAPUOKALANI HEWETT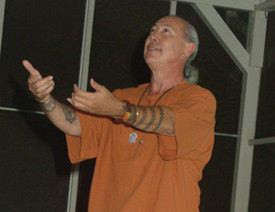 Our Kumu (teacher) is most well known as a Haku Mele (composer). He has written over 100 songs and chants - more than any other living Hawaiian composer. Founder and Directer since 1978 of Kuhai Halau O Kawaikapuokalani Pa Olapa Kahiko, he is also the Spiritual Director of the Waimanalo Health Clinic. His teachers include his grandmother, Iwa Kanae, Aunty Emma DeFries and Edith Kanaka'ole. Kumu shares much of his family's background and values. He is a delight to be with and enjoys "playing" as well as teaching. Although he mostly teaches trained teachers, these hula intensives presented by Aloha International provide a unique opportunity for hula dancers at all levels to learn directly from a true master of the art.
The cost of the Hula Intensive is $1600 ($1500.00 if paid by March 31, 2019). This includes a shared double room and instruction but not meals. We are welcome to share the cost of food and cooking. The size of the class is limited, so early registration is recommended.
If you would like more information email Susan Pa'iniu Floyd at sfloyd01@gmail.com.
The August 5-9, 2019 Hula Intensive will be held on the Big Island at Kahalelehua, Kumu Hewett's Hula home on the slopes of Mauna Loa, twenty minutes from Hilo airport and fifteen minutes from the town of Volcano.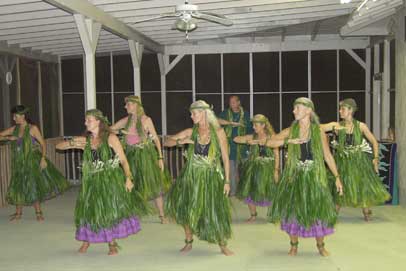 ---
Photos courtesy of Rainbow Photography.