Activity
---
"Mastering Your Hidden Self"
Online Course
Register Now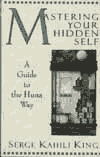 This course is designed who want to expand their knowledge of Huna and learn more skills for self development. We will use the text, Mastering Your Hidden Self by Serge Kahili King to explore Huna through practice and discussion. Topics will follow the chapter headings and will include:
Huna and Modern Psychology
Getting to Know Your Subconscious
Clearing The Path To Power
The Road To Self Mastery
Creative Meditation
... and more
This class may transfer to your institution for college credit. (Check with your institution for their policies). Katherine Veilleux has a Masters Degree in Counseling and is an Alaka'i of Huna International. She also teaches community college classes in communication and psychology. This course has the equivalent number of hours as a community college summer course (12 weeks @ 4-10 hours per week).
This online class is taught primarily through a discussion board format meaning that students post textual responses to assignments and each other asynchronously (we are not all online at the same time). This allows for flexibility of response according to your schedule and the time zone you are in. If we are able to coordinate schedules, we may have an occasional virtual chat meaning we'll all be online at the same time discussing a particular topic.
Course fee: $300.00 plus materials:
Mastering Your Hidden Self, the book by Serge Kahili King.
Other materials as may be determined by the instructor.
The book may be purchased at The Huna Store, at Amazon.com, or from a local bookstore. The class will run for twelve weeks. Please check the Calendar for current dates. Minimum enrollment 12-maximum 18. For questions about the class, e-mail Katherine Veilleux at veilleuxkm@myfairpoint.net. For questions about registration, e-mail Serge Kahili King at serge@huna.org. Aloha!